Gett vs. Uber: Which is the Cheaper Hailing App in London?
by

- February 25, 2018
Everyone in London has heard of Uber, and general opinion is that Uber is cheaper than a black cab – but we've discovered that there are times when a black cab booked with the Gett app can be up to 50% cheaper than Uber.
The Uber and Gett apps consistently rank number 1 and number 2 among ride-hailing apps in the UK, with Uber enjoying an especially huge following from its users, media pundits and investors. But which is really the best app for consumers in London to use? We collected pricing data in July 2017 on both apps for major locations across London; from the results we conclude that Gett is generally cheaper once Uber surge pricing hits 1.7X.
UberX is Cheaper in London - When There's No Surge Pricing
We found that for rides where Uber does not impose surge pricing, UberX is nearly 40% cheaper than Gett on average. For instance, for a ride between Green Park and King's Road, we estimate that UberX would charge about £7.50, while Gett would charge about £11.80. This represents a trip over 2.5 miles that takes anywhere from 10 to 25 minutes depending on traffic conditions.
In total, we price checked trips from centrally-located Green Park to Putney High Street, King's Road in Chelsea, Hampstead High Street, Clapham Common South Side and South Kensington. For these destinations, UberX ranged from 34%-39% cheaper than Gett – when there is no Uber surge pricing.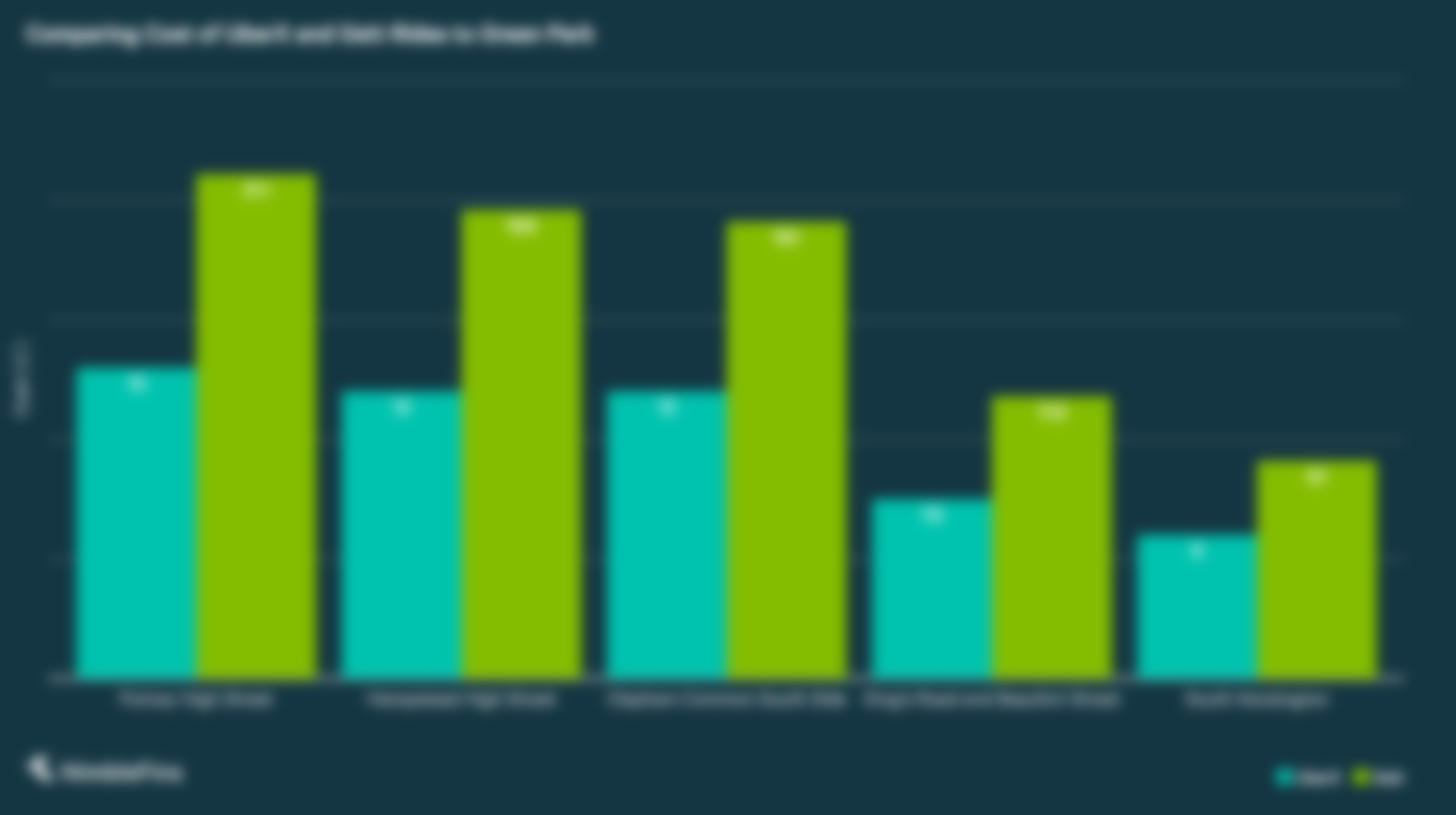 The cost difference was less apparent for larger car services seating 6. For instance, uberXL's ride between Green Park and High Street Ken had an estimated cost around £11, while Gett XL's 6-seater service had an estimated cost of roughly £11.50, only 5% more expensive than Uber.
Finally, it could be argued that comparing a black cab and a Prius (the most common UberX car) is not quite fair. A modern black cab is roomier and, generally, a nicer ride than a Prius. If we compare Gett's black cab to a higher-end UberExec (e.g., Audi A6 or A8, BMW 5 or 7 Series, Jaguar X, Mercedes S or E, or Tesla S), Gett comes out cheaper by around 15%.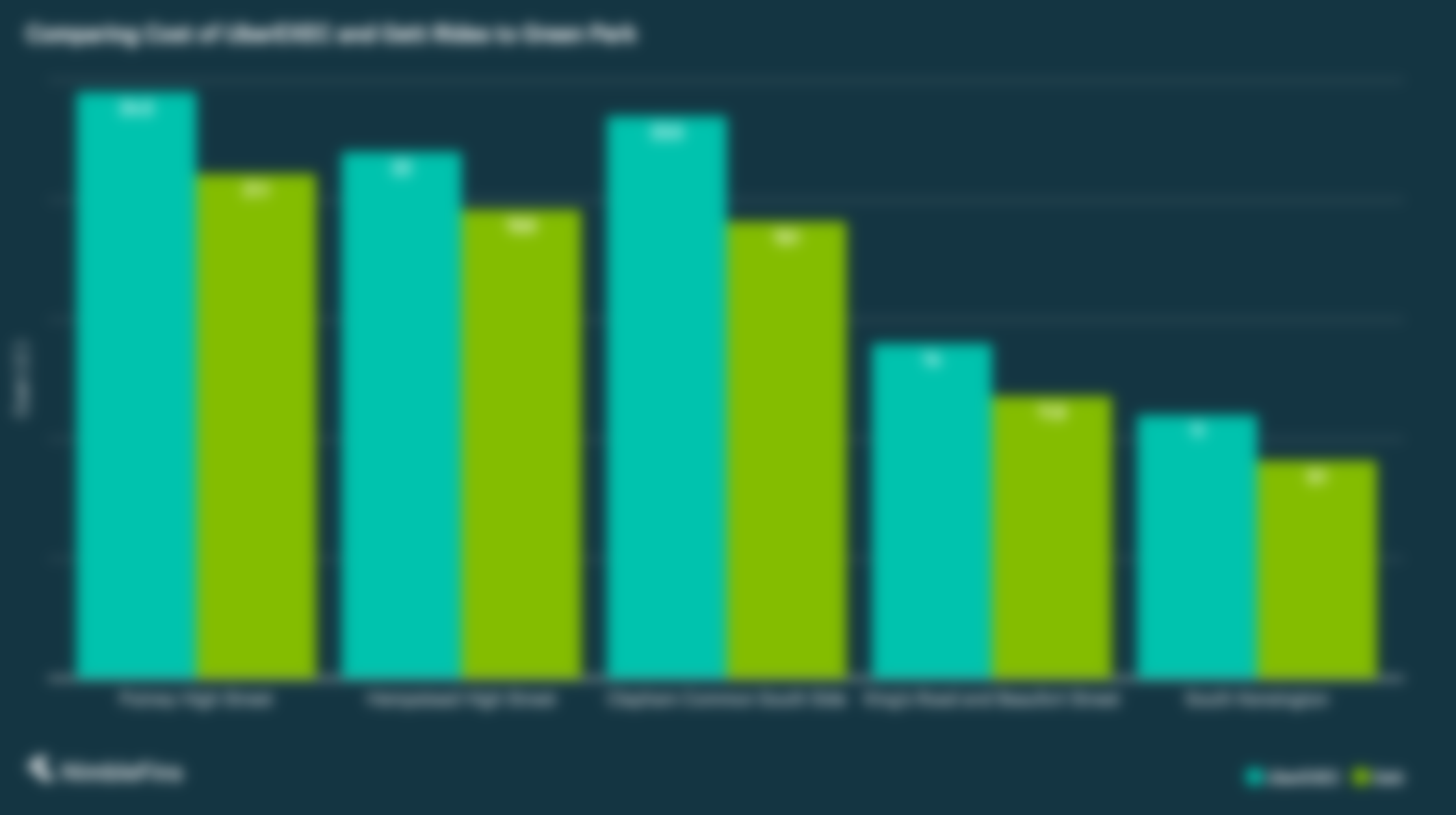 Uber Ranked Number 1 as Most Downloaded UK Travel App
Perhaps most riders prioritize cost over comfort and are happy enough in a Prius instead of a black cab; according to data we collected from the Apple App Store, Uber has consistently beat Gett in terms of download ranking. Uber ranked number 1 every single day as the top downloaded UK Travel App over the past month; Gett ranked 31st. In terms of just UK Car-Hailing Apps, Uber and Gett ranked number 1 and 2, respectively, ahead of Addison Lee and MyTaxi (formerly Hailo).
If UberX Surge Pricing Tops 1.7, Gett is Cheaper
Generally speaking, if UberX surge pricing hits or exceeds 1.7X, you're better off using Gett to call a black cab for a fixed fare. During rush hour or a Friday or Saturday evening, it's not uncommon for Uber to charge 2X or more a normal fare.
Regular Uber users are all-too familiar with this surge pricing that may apply to bookings when demand is high. The idea behind the surge is that when demand (riders) outstrips supply (cars on the road), surge pricing will entice more Uber drivers into their cars when and where they are needed most. Whatever the theory behind it, surge pricing changes the Uber vs Gett analysis quite dramatically.
In the following table you can see how expensive the Uber surge pricing is relative to Gett fixed prices. When Uber charges 3X normal prices, Gett comes out nearly 50% cheaper.
Cost of Car Rides from Green Park on Gett vs. UberX, Including UberX Surge Pricing
| Starting Location | Gett | UberX | 1.7X UberX | 2X UberX | 3X UberX | Distance (miles) | Minutes |
| --- | --- | --- | --- | --- | --- | --- | --- |
| Putney High Street | £21.05 | £13.00 | £22.10 | £26.00 | £39.00 | 4.8 | 20 |
| King's Road and Beaufort Street | £11.97 | £7.50 | £12.75 | £15.00 | £22.50 | 2.4 | 10 |
| Hampstead High Street | £19.64 | £12.00 | £20.40 | £24.00 | £36.00 | 4.8 | 21 |
| Clapham Common South Side | £19.12 | £12.00 | £20.40 | £24.00 | £36.00 | 4.4 | 17 |
| South Kensington | £9.08 | £6 | £10.20 | £12.00 | £18.00 | 2 | 12 |
One additional reason Gett might work out cheaper is that Gett's fares are fixed - you won't pay more even if you're stuck in traffic. Uber fares, on the other hand, are variable. Sit for ages in traffic and your final Uber bill may be quite a bit higher than your initial fare estimate.
If you live in or visit London, download both apps on your phone; when Uber surge pricing hits or exceeds 1.7X, price check with Gett and you may find a cheaper ride using Gett to hail a black cab.
Methodology
In order to calculate the cost of each ride for Uber and Gett, we collected data on each service's live quotes for a selection of days and times, averaging across the results. For black cabs, we chose the "fixed fare" option with Gett. We gathered price data in July 2017 for trips between centrally-located Green Park and a number of major neighbourhoods of London: Putney High Street, King's Road in Chelsea, Hampstead High Street, Clapham Common South Side and South Kensington. For our trips, we assume no toll or additional surcharges, unless specifically mentioned.
Comments