The guidance on this site is based on our own analysis and is meant to help you identify options and narrow down your choices. We do not advise or tell you which product to buy; undertake your own due diligence before entering into any agreement. Read our full disclosure here.
How Much are Driving Lessons in the UK in 2022?
The average cost for an hour's driving lesson in the UK is £23 if you buy in bulk, but here's how prices can vary significantly depending on where you live and which instructor you choose. While being able to drive offers a world of freedom to travel where and when you want, there can be some stark costs associated with driving—especially when it comes to driving lessons. The average driver who passes his or her test takes 47 hours of lessons, at a total cost of around £1,080.
Average Driving Lesson Cost per Region
The average driving lesson costs £23 in the UK, but can be a few quid higher if you don't buy in bulk. Going on the average of 47 hours worth of driving lessons required to pass the test, this means the average cost of learning to drive is a whopping £1,080.
However, the actual figure can vary significantly depending on where you live. This is because driving instructors are free to charge whatever they wish for lessons, meaning your local area could play a part in how much you pay. In addition, there can be a vast contrast between learning in automatic car vs a manual, whether you require regular or intensive lessons or the experience level of your instructor (e.g., trainee instructors typically charge less).
Some driving schools do offer discounts for block bookings, for example we noticed that many BSM instructors offer around 20% off when you buy a block of 10 lesson. Using the AA and BSM driving lesson price calculators, here are the average prices for each region of the UK, learning in a manual car:
| Typical Cost of Driving Lessons per hour | Hourly cost, buy 1 hour | Hourly cost, buy 10 hours |
| --- | --- | --- |
| South West | £24 | £19 |
| North East | £26 | £17 |
| Yorkshire & Humber | £26 | £26 |
| Wales | £26 | £20 |
| North West | £27 | £23 |
| Scotland | £28 | £28 |
| Midlands | £29 | £28 |
| London | £30 | £24 |
| Average | £27 | £23 |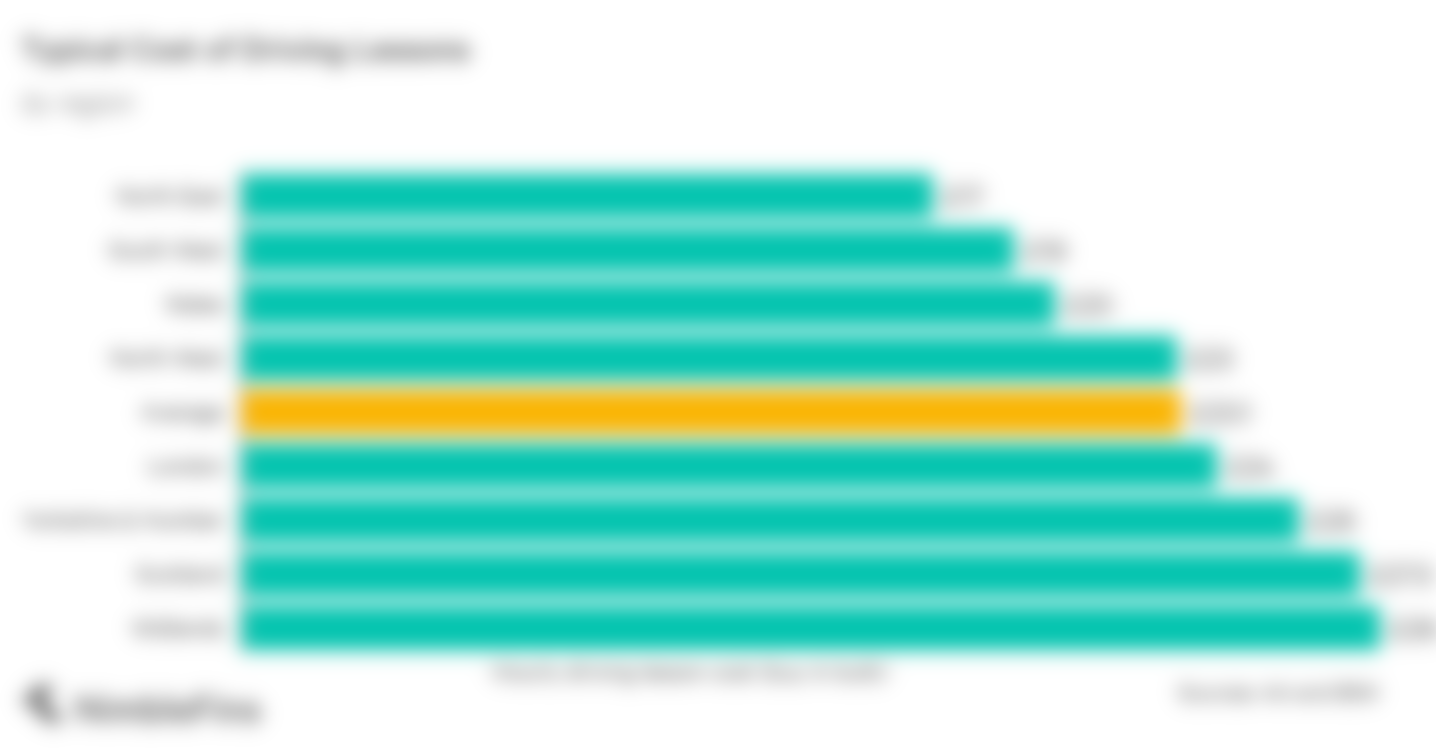 Note: Prices can fluctuate from instructor to instructor and from town to town within a region, so you may receive quotes higher or lower than these amounts.
London, The Midlands and Scotland have the most expensive driving lessons, with learners paying north of £28 for an hour. In many cases you can pay less buying in bulk however, but not always. The cheapest areas of the UK are the South West, North East and Yorkshire and The Humber, with an average price of £24 to £26 per lesson. Although it might not seem like a huge difference, with the amount of lessons required to actually pass these costs can really start to add up.
Small, local companies can be even more affordable. For example, Drive Safe Driving School in Grimsby offers 5 lessons for £50 for manual learners. English Driving School of Motoring in Newcastle offers 5 lessons for £25, so it's definitely worth shopping around as there can be considerable savings to be made, as some block bookings can actually cost the same as just a single lesson.
How Many Lessons do I Need?
The Driving Standards Agency (DSA) has calculated that the average learner who passed their test took 47 hours worth of lessons. This is in addition to 22 hours of private practice, with many driving schools also recommending learners practice their driving in between lessons too.
Tips to Save Money on Driving Lessons
Given how expensive it is to learn to drive and take your test, you want to make sure you are getting the most out of each lesson.
Research to find a quality instructor. Before you book with a company, do some research and take a look at the feedback. What are people saying about the instructors, and do they have a reasonable pass rate? It helps to know the average pass rates when deciding if a company has acceptable results or not.
Avoid shared lessons. Avoid lessons which make you share the end of your lesson with another learner driver, which usually involves picking up or dropping someone else off. This will eat into your time, therefore the the cost of your lesson too, and may prevent you from reaching the adequate driving standard in time for your test. It can also be very distracting!
Look for deals. Driving schools often offer exclusive deals on a regular basis, especially around Christmas where you will often find "1st lesson free" deals. You may also find student discount codes for learner drivers when you start college or university.
Buy in bulk. Buying in bulk may be the simplest way to save money on driving lessons—in our analysis we found it was quite common for companies to offer a discount around 20% if you buy a pack of 10 lessons, but discounts can be higher or lower.
While you might save on lessons with a trainee instructor, this may not always be advisable if they are not as competent at teaching the ins and outs of driving and test-taking tips.
Additional Learner Driver Costs
As well as paying for driving lessons, you will also have to factor in other essential elements associated with being able to legally drive a car in the UK. Here are just some of the other costs learner drivers need to factor in when budgeting for driving lessons:
Costs associated with getting your driving license
Provisional licence
£34
Theory Test
£23
Driving Test (weekdays)
£62
Driving Test (weekend/bank holiday)
£75
Average insurance cost (under 25)
over £1,000 (depends on where you live, your car, etc.)
The biggest cost, especially for younger drivers is insurance, which continues to increase year on year. The reason insurance for the under 25's is so steep, is because insurance companies offering cover for young driversdeem this age group to be more likely to be involved in an accident.
You will also need to consider the cost of a provisional licence which is around £10 cheaper to apply for online than it is by post. However this is required before you can take any lessons.
Then comes the cost of your actual driving tests, which costs up to £75 each time you take it. According to the most recent data from Gov.uk, the average pass rate for those taking the test for the first time is 46.6%. This means there is a higher chance of someone failing first time and having to fork out for another test, than there is of them passing first time and only having to pay one test fee.
Also, you need to factor in any learning materials such as apps and books to help you pass your theory test. Apps including the official DVLA theory test app, costs between £5-£10 on the app store.
Comments