Average Cost of a Wedding in the UK 2023
Let your wedding be the joyful event you imagine it should be—by planning a wedding you can comfortably afford. Regardless of who is paying for it or how much you're spending, planning a wedding will be much less stressful if you decide on and stick to a budget. Start by understanding typical budget items, as well as how much they typically cost. Once you have a budget to work with, you can actually enjoy picking out and paying for your dress, flowers, venue, rings, etc. for this special day.
If wedding insurance will give you peace of mind about all the money you're spending, please read our review of Wedding Plan Insurance to learn more.
Average Cost of a Wedding in the UK
The average cost of a UK wedding stands at close to £20,000, but all-in costs can reach £30,000 when you also include the honeymoon and hen/stag parties. However, the concept of an "average" wedding is misleading because you can get married for as little as £50 or so at a register office or spend tens or even hundreds of thousands of pounds for an extravagant, luxury affair that would be well suited to a spread in your favourite wedding magazine.
Do you want some budget guidance as you begin planning your big day? We've researched the market and examined various polls (e.g. from Hitched.com) and determined a lower range, middle and upper range for costs of typical wedding expenses like the dress, venue, catering, flowers, etc. Most weddings will fall near the lower to middle numbers. Use these as a guide to see how typical weddings budgets are spread across the many expenses. The numbers also show you how wedding costs can quickly add up.
| Wedding Costs | Lower Range | Middle | Upper Range |
| --- | --- | --- | --- |
| Wedding & Reception Venue | £500 | £7,600 | £10,000 |
| Catering (food) | £1,500 | £2,275 | £8,000 |
| Catering (drink) | £400 | £1,050 | £5,000 |
| Dress | £350 | £1,300 | £3,000 |
| Photography and video | £500 | £2,000 | £4,000 |
| Entertainment | £200 | £1,000 | £2,000 |
| Flowers | £250 | £500 | £2,000 |
| Engagement and Wedding rings | £250 | £3,000 | £10,000 |
| Cake | £200 | £500 | £2,000 |
| Tranportation | £0 | £500 | £1,500 |
| Stationary | £- | £500 | £350 |
| Attendant's outfits | £- | £350 | £800 |
| Groom's suit | £50 | £500 | £800 |
| Mother-of-the-bride outfit | £- | £200 | £400 |
| Hair and makeup | £80 | £150 | £1,000 |
| Headdress and/or veil | £30 | £70 | £250 |
| Shoes | £50 | £100 | £400 |
| Other wedding jewelry | £40 | £100 | £500 |
| Gifts | £- | £250 | £1,000 |
| Ceremony fees | £57 | £200 | £300 |
| Decoration | £175 | £350 | £2,500 |
| Honeymoon | £1,250 | £4,500 | £10,000 |
| Hen party | £200 | £470 | £800 |
| Stag party | £200 | £550 | £1,000 |
| Total Wedding Costs | £4,632 | £22,495 | £55,800 |
| Honeymoon | £1,250 | £4,500 | £10,000 |
| Hen party | £200 | £470 | £800 |
| Stag party | £200 | £550 | £1,000 |
| Total Costs, incl. wedding, honeymoon, stag/hen dos | £6,282 | £28,015 | £67,600 |
Trends in Wedding Spending
Using data from the poll below, NimbleFins has found that budget-conscious Britons are spending less on their weddings since the coronavirus pandemic.
Specifically, there has been a rise in people trying to spend between zero and £10,000 on their big day, while those spending between £10,000 and £20,000 declined in almost even numbers. The proportion of couples wanting to spend no more than £10,000 on their wedding has increased from 28% in 2020, to 31% in 2021, and further to 35% in 2022. Meanwhile, those spending between £10,000 and £20,000 has decreased from 35% in 2020, to 32% in 2021 and 28% in 2022.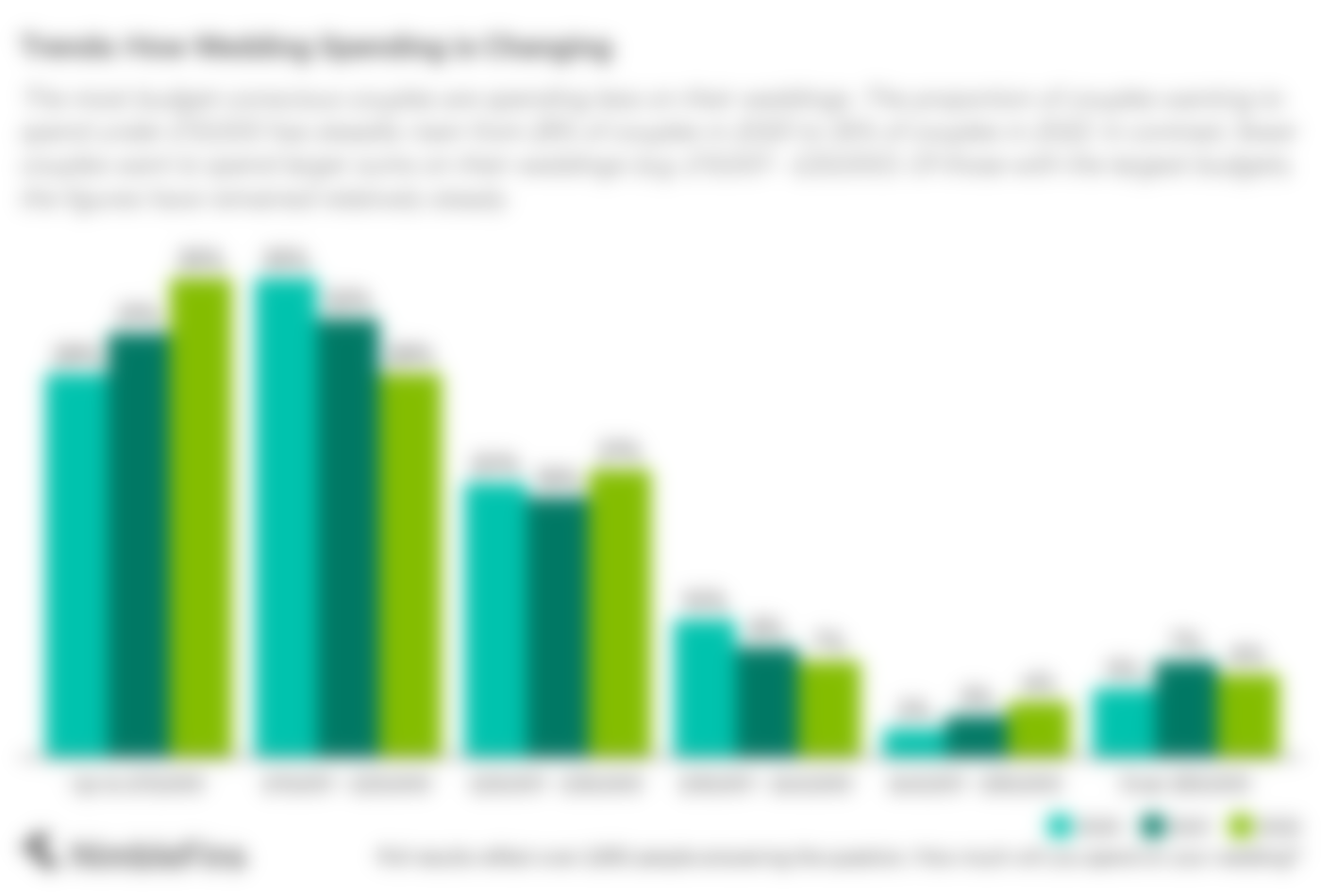 Average Wedding Dress Cost
Get your wedding dress right, and everything else will fall into place around you. To help you find a dress you absolutely love and is within your budget, we have two tips:
Only try on dresses within your budget. It's human nature to be attracted to items that cost more money—we think they're inherently better. So don't even tempt yourself with a dress that is too expensive when your perfect dress (in terms of budget and look) is just on the next rack.
Be patient. Like with all retail shopping, leave the decision for a night. See if you wake up the next morning still dreaming about walking down the aisle in your dress. Once the shopping adrenalin has worn off, you may remember that you hate dancing in strapless dresses!
That in mind, how much will you pay for your wedding dress? While a thrifty bride to be can find plenty of dresses around the £200 mark, a bespoke, designer dress can cost thousands. We've researched the market and found estimates for wedding dress costs in the UK:
Average Wedding Dress Prices
| Type | Low Price | Average Price | High Price |
| --- | --- | --- | --- |
| Second Hand | £25 | £200 | £7,000 |
| High Street/Online | £95 | £325 | £650 |
| Bespoke/Designer | £1,000 | £2,000 | £4,000 or more |
Budget wedding dresses under £500 can be found at the following high street, online or second-hand shops:
Average Wedding Ring Costs
Wedding rings can vary significantly in cost, depending on the retailer, the type of metal, the size and shape of the band and the presence of any diamonds or other details. To give you an idea of how the price changes across these features, we priced wedding bands at Goldsmiths and found prices ranging from £40 up to £1,500 per ring.
If you are trying to save money on rings, go for a smaller band width. If you really like the look of a wider band, you can opt for a lower-priced metal, such as silver or white gold instead of platinum.
Average Wedding Ring Costs
| Wedding Ring Type | Low | Mid | High (with diamonds) |
| --- | --- | --- | --- |
| 9ct White, Yellow or Rose Gold | £150 | £400 | £2,250 |
| 18ct White, Yellow or Rose Gold | £300 | £600 | £2,500 |
| Platinum | £450 | £1,250 | £2,950 |
Diamond engagement rings clearly cost even more. We checked out prices from the British Diamond Company (below), a leading UK diamond specialist, who does have diamond engagement rings starting from under £1,000. But clearly prices rise rapidly when you move into larger diamonds! Click below to browse their engagement and wedding ring options.
Venue and Catering Costs
Venue and catering costs account for the largest portion of most wedding budgets. If you're set on a stately home or a castle, it's not unusual for costs to start from £70 to £150 a head. Depending on the size of your guest list, the venue and catering can easily run into the thousands or tens of thousands of pounds pretty quickly. At the other end of the spectrum, an intimate, catered, garden-party wedding can cost as little as £35 a head.
If you like the idea of a destination wedding, you may find that getting married abroad can actually save you money!
Wedding Car Cost
A wedding car isn't just for transportation—it can make a great backdrop for photos as well. The average wedding car hire cost is £217, but prices vary based on the location of the wedding, as well as the type of wedding car.
Wedding Ceremony Cost
The cheapest way to get married is by exchanging vows at a statutory ceremony in a register office—this costs around £57 (£46 for the ceremony and £11 for a marriage certificate). But a statutory ceremony at a register office doesn't allow for personal vows, guests, flowers, music or any of the other usual fanfare. Of course, you can choose other settings but they will cost more. The table below will give you an idea of some popular ceremony venue costs.
| Ceremony Costs | |
| --- | --- |
| Register Office | £57 |
| Church of England (home parish) | £512 |
| Church of England (outside your parish) | £560 |
| Other Venues (low end) | £200 |
| Other Venues (high end) | £1,500 |
Poll
Let's see how much our readers plan to spend on their weddings. Do you have a budget in mind yet? If so, please add your data point to the collection so we can see how much people really spend.
Paying for your Wedding
Whoever is paying for your wedding should consider carefully how they will cover the bills, so that this joyous life event doesn't become a source of stress. If you have already saved enough funds for your dream day, then be sure to have a rewards credit card in your wallet. You can get cashback, miles or other points every time you spend money for your wedding. A rewards card is not a good idea if you can't pay the full balance back every month, because rewards cards tend to have high interest rates that would quickly wipe out your rewards, and then some.
If you need to borrow money to pay for any wedding expenses, then a 0% purchases card can help you avoid interest charges during the promotional period, while you pay your debt off. Still, try not to borrow more than you can pay back in a year or so. Having a large debt to pay off is no way to start a marriage (money is historically one of the biggest stresses/causes of arguments between couples!). For instance, if you put £8,000 of charges on a purchases card, you'd need to pay the credit card company £667 a month to pay back this debt within your first year. Be sure to plan your budget carefully so that you can comfortably pay for the expenses. Your wedding may be a glorious day, but it is only one day of a hopefully long and happy marriage!
FAQs
How long is a piece of string? Weddings can cost anywhere from a few hundred pounds to £100,000 or more. According to the latest figures, the average wedding costs around £30,000 in the UK.
Traditionally, the bride's family would pay for a wedding. Nowadays, however, anything goes. In fact,
Vogue
recently reported that 68% of weddings are mostly funded by the happy couple themselves. This isn't surprising as the age of marrying couples has risen, so couples are typically more financially stable. And by paying for their own wedding, a couple is free to spend their money as they see fit.
The average UK wedding includes 82 guests for daytime weddings and 106 for evening guests, according to
Hitched.co.uk
. When deciding how many people you should invite, work from a starting point such as a catering budget or a venue seating limit. Once you know your limits, it will be easier to decide how many friends your parents can invite and which colleagues or old uni friends make the cut.
Wedding rings cost
anywhere from £150 up to £3,000 or more. You should spend an amount that you are comfortable with, not more, and keep in mind the rest of your
wedding budget
.
The typical British couple spends £1,000 on flowers for their wedding, accounting for around 3% of their
wedding budget
.
The average cost of a wedding cake in the UK is £500, accounting for around 1.5% of the
average wedding budget
.
The cost to get married in a church is £550 if you marry away from where you live and £505 if you marry in your home parish. These fees includes the cost of the vicar, the church, calling your banns, a banns certificate, the marriage certificate, lighting and all other administration. An organist, flowers, choir and extra heating all cost extra.
It costs £50 to get married at a register office—£46 for the ceremony and £4 for the marriage or civil partnership certificate.
The average cost of a wedding photographer in the UK is around £1,000, accounting for around 3% of the typical
wedding budget
.
Sources
Comments