How to Buy a Caravan Awning
If you're a caravan owner than you may already know that a great way to extend your living space when your caravan is parked is to add an awning to your unit. These handy additions come in various styles and sizes from a simple canopy that provides shade to a full awning that can add additional space or even function as an extra room or add on. These are often used to create an extra bedroom or dining area, or provide a covered outdoor area. Depending on your needs and how long you plan to remain at locations may affect the style of awning that you decide to purchase.
What are the types of caravan awning?
Caravan awnings come in a few different styles. All are made from lightweight materials and are fitted to the outer sides of the caravan using a rail or corded channel. Recent revisions to international awning standards mean that all awnings are now graded by use. 'L' lightweight models that are designed for occasional or limited use, and 'T' touring models that can withstand the elements and can be used all year round, except in snow. The 3 styles of awning typically fall into one of these categories.
Porch Awnings
Easy to assemble and relatively small in size. Porch awnings can usually be put up in just a few minutes and provide a nice shaded area outside of the caravan. They can usually be slid along the caravan via the awning rail and they are generally universal—meaning they will work with almost all caravan models. Porch style awnings are very lightweight and are great if you just need a small shaded area for a pet—providing some shade can help reduce the costs of running a fan or aircon unit inside on warmer days.
Combi Awnings
Bigger than a porch awning and usually combines a covered area with a protruding roof section. Good for extending living areas, using as a sitting or dining area, and a great place to have an outdoor picnic area near your BBQ. This style of awning attaches to the caravans awning rail and can be assembled by one person. Combi awnings are a good option for caravanners that are staying for short periods in time at a site.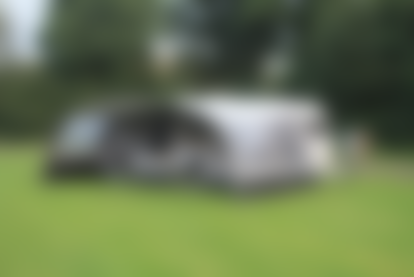 Full Awnings
If you are looking to seriously extend your living area then a full awning is the way to go. Often designed to include windows with blinds or curtains these awnings run the full length of your caravan to create a complete extension to your liveable area. If you are planning to stay for a length of time in one location then this is a good way to increase space. As these awnings are larger they can be a bit more complex to assemble, and it can be easier with two people.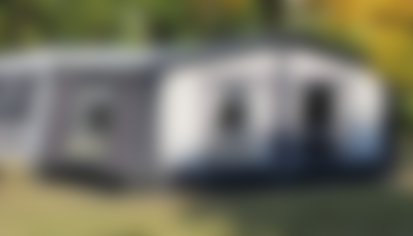 What style of awning do I need?
The style of awning that you select may depend on what you need it for and the length of time that you plan to remain at locations. If you are a short stayer then a more portable version like a porch awning or a combi awning may be more suitable. Long stayers will benefit from a stable, roomier full awning that creates a functional annex to the main caravan. To help you make your decision, it is also worth considering questions like:
Do I need the awning for extra space or simply to provide shade?
Does it need to shelter occupants from the weather?
Will it be assembled by 1 person only, or more people?
Will people be sleeping or dining in the awning?
Will the awning area be used for cooking entertaining?
Do porch awnings fit any caravan?
The nice part about any investment that you make in an awning is that they are designed to be a universal fit. It is always sensible to check the model that you are buying but the majority of them will be able to be used with almost any model of caravan. So should you trade-in and upgrade your unit you will be able to use your awning with any new model that you buy.
Do porch awnings need to be the exact size?
When buying and measuring for your new caravan awning you will need to know the height of the caravan floor from the ground and the total length of your awning rail. While it is prudent to try and measure as accurately as possible, caravan awnings do allow around 10cm of flexibility in their measurements. Meaning if you are off by a centimeter or two then your awning will still fit your caravan perfectly fine. When measuring up and deciding on a style of awning to buy make sure you also consider external caravan features like windows or vents.
How to put up a caravan awning?
The assembly time and complexity of assembling your caravan awning will depend on the size and style of the one that you have purchased. But generally speaking, all awnings attach to the caravans awning rail to secure it to the caravan. Then the framing structure is comprised of rods and poles to form the skeleton of the awning. It is then covered by the external material and secured using pegs and ties. These are adjusted to ensure that the awning's canvas is taut and meets the side of the caravan properly. To reduce damp and keep in warmth you may want to lay down a groundsheet beneath the awning before assembly.
How to store a caravan awning
If cared for correctly your caravan awning should serve you well for many years to come. When packing away your awning you should always make sure it is completely dry. Moisture is the enemy and if it is stored while even slightly damp you will find that it is covered with mildew the next time you come to use it. Any mud or dirt should be wiped off but remember not to use any cleaning agents as it will remove the rain seal rendering your awning no longer waterproof. The awning should be stored in a dry and well-aired area like a loft space or similar.
Comments