ManyPets (formerly Bought By Many) Pet Insurance Review
ManyPets (formerly Bought By Many) Pet Insurance Review
Award-winning, innovative cover with features that real pet owners want. See how ManyPets (formerly Bought by Many) is different than alternatives in the UK market.
Good for
Vet fee policies include unlimited free video vet appointments
A plan that pays 20% MoneyBack on your premium for each year you don't claim
Cover for older pets
A plan for pre-existing conditions
All previous conditions cease to be "pre-existing" after 2 years
Euthanasia cover
Price Guarantee means existing customers will never pay more than new ones
Competitive prices
Bad for
Dental illness only available on their top-tier "Complete" plan
The guidance on this site is based on our own analysis and is meant to help you identify options and narrow down your choices. We do not advise or tell you which product to buy; undertake your own due diligence before entering into any agreement. Read our full disclosure here.
Between rave customer reviews and award-winning cover, ManyPets pet insurance is considered to be one of the best pet insurance companies in the UK. But how do the customer reviews, prices and features really compare? Let's find out. When you're ready to get a quote for your pet, click here.
In This Review
ManyPets Pet Insurance Review
ManyPets is an owner-friendly pet insurance brand that listens to pet owners to create plans that owners want, such as cover for pre-existing conditions and a policy offering 20% money back if you don't claim. Given how much pet insurance premiums rise for older pets, this can be a real bonus. As can cover for pre-existing conditions since only a handful of companies cover pre-existing conditions. (In fact, we rate ManyPets as the best provider of pre-existing pet insurance in the UK.)
Additionally, strong customer reviews and solid features make ManyPets an attractive option for pet insurance. But which policy would be best for you? Let's see what ManyPets has to offer.
ManyPets offers five different Lifetime cover options and a Liability Only plan. Here's a quick overview of their Lifetime policies so you can roughly see how they differ. For more information on the details and exclusions, please refer to the policy and coverage options or the policy documents.
ManyPets Policy Overview
Complete
£15,000 of Lifetime cover, including cover for dental illness
Regular
£7,000 of Lifetime cover; option to pay no excess
MoneyBack
£7,000 of Lifetime cover; 20% of your premium back each year that you don't receive a payout
Pre-existing
£7,000 of Lifetime cover; cover for pre-existing conditions
Value
£3,000 of Lifetime cover for those on a tight budget
ManyPets Stand Out Features
ManyPets Lifetime policies are notable for a few reasons, such as euthanasia cover, a free 24/7 vet helpline and favourable treatment of previous conditions. Lifetime plans include:
Unlimited vet video calls available 24/7
Cover for travelling abroad with your pet (not on the Value plan)
If your pet hasn't had treatment, advice or medication for a previous condition in the past 24 months, that condition is not longer considered "pre existing"
£150 for euthanasia
Dental illness (Complete plan only)
Lifetime cover for older pets
ManyPets Customer Reviews
Is ManyPets any good? We think so. Not only does the company offer cover when others won't (e.g., for older pets and pre-existing conditions) but the customer reviews for ManyPets are really quite good. Nearly 500 customers have rated ManyPets with 4.3 stars on Trustpilot as over 11,000 have rated the company with 4.7 stars on feefo, with 83% awarding the company with 5 stars.
To find out what real customers have to say, we scoured online customer reviews to look for common complaints and see what people really like. The only common problem we noticed was related to the time to receive settlement for a claim, with some customers unhappy that the settlement process took many weeks—that said, there were also many comments praising the ease and speed of the ManyPets claims process. Perhaps it depends on your expectations. Here are some quotes from ManyPets customers:
"... I still haven't received payment almost £1000. I have contacted BBM via telephone and email only to be told they have a back log of claims..."

"Fast hassle free payment—great claim web site."

"Extremely easy to navigate the website to find the perfect policy for my dog."

"Very easy to make claim ManyPets sorted everything out."

"Great price compared to my previous insurer."
Top tip to save time on recurring claims: So that you don't have to reenter all the information for continuation claims, you should be able to upload the relevant treatment information directly to the claim at the time of submission or attach this to an email in correspondence with your claim ID.
ManyPets Excess
The standard pet insurance excess on ManyPets policies is £69 until your pet turns 9; then the excess for older pets is £69 plus 20% of claims. The "Regular" plan has an option of no excess, but your premium will go up if you opt for this. The Pre-existing Condition plan excess is £99 (£99 plus 20% of claims for age 9+).
Also, you can opt to pay a higher £99 excess or add a 20% copay for younger pets to bring down your premium. Choosing the £99 excess drops the premium by roughly a few quid each month.
| ManyPets Excess | Under age 9 | Age 9+ |
| --- | --- | --- |
| Standard | £69 | £69 + 20% |
| Regular plan | option of no excess until age 9 or £69 | £69 + 20% |
| Pre-existing Condition plan | £99 | £99 + 20% |
ManyPets Insurance for Older Pets
There is no upper age limit on most new ManyPets policies. Older dogs can still get Lifetime cover through the Compete, MoneyBack and Regular plans, even if they are older when you apply.
Owners of older pets will pay a larger share of vet bills due to the 20% copay for older pets, which is paid in addition to the fixed £ excess. As your pet ages and is likely to suffer increased health problems, ManyPets expects you to contribute more towards the cost of care. Typically a 20% excess (in addition to the fixed excess) is introduced at your pet's 9th birthday.
ManyPets Prices and Quote Comparison
According to our research, ManyPets is cheaper-than-average when it comes to value for money. Compared to the average cost of pet insurance, prices are usually attractive for the cover you get.
Direct quote comparisons can be tricky for pet insurance, since coverage levels, features and excess amounts vary across insurers, but we've compared the ManyPets Lifetime policies to competing Lifetime policies with similar vet cover limits from our comparison site partner Compare Cover. We used a 1-year-old medium sized, mixed breed as our sample dog to see how ManyPets prices compare (we used a £69 excess for ManyPets quotes).
| ManyPets Lifetime Pet Insurance Cost Comparison | £3,000 vet cover | £7,000 vet cover | £12,000 vet cover |
| --- | --- | --- | --- |
| ManyPets | £19 | £23.3 | £31.57 |
| UK Average | £21.1 | £31.9 | £54.01 |
| ManyPets is cheaper by: | 10% | 27% | 42% |
We found that ManyPets lifetime policies started from £19 a month for our 1-year-old dog, going up to £54.01 a month for the highest level of cover (£12,000 of vet bills a year). These prices were around 10% to 40% lower than the competing plans we studied, with particular value to be found in the higher-tier Complete plan relative to the alternatives.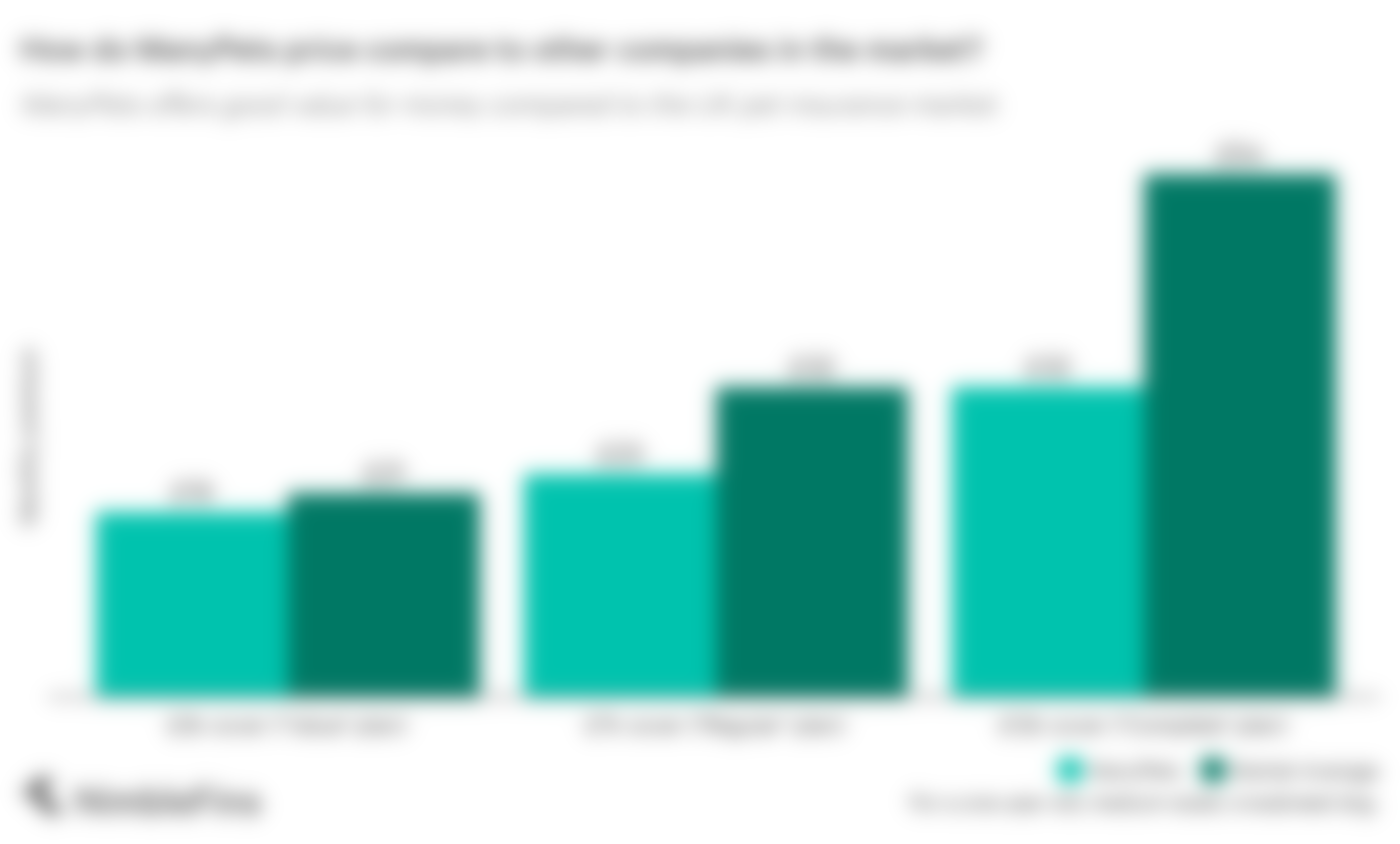 It's also useful to see how ManyPets policies compare against each other. For this exercise, we used a £99 excess across all policies because the Pre-Existing plan only has the £99 excess option. Here's how quotes compared:
ManyPets Claims
To claim with ManyPets, customers use their online Snap Claims system—there are no paper forms like you'll find with most other pet insurance companies. To claim, simply:
Log in to your account
Click on 'My account'
Click on 'My quotes & policies'
Choose the policy you want to make a claim on.
Click "Make a claim"
Be ready to provide your vet's details and the amount you're claiming, and to upload a photo of your vet invoice (preferably itemised).
Once you've initiated the claim, ManyPets will contact the vet and keep you updated by text message as the claim progresses. Customers stuck along the way can call ManyPets at 0333 130 4552.
ManyPets is also willing to pay your vet directly, which you can indicate during the online claims process.
How long do you have to submit claims? ManyPets gives policyholders a year to submit claims after the event that caused it. This claim window is quite advantageous compared to many offerings in the pet insurance market. Some alternatives require that each claim is submitted individually, even for ongoing treatment, or have claims windows as short as 60 days.
Types of ManyPets Policies
ManyPets offers two types of policies—Lifetime and Accident Only. Lifetime policies can protect a pet owner against the financial strain of recurring/chronic injuries/illnesses over the course of the pet's life, and ManyPets offers six different types to suit a variety of needs, from budget to premium, pre-existing conditions and even a plan you can get money back on if you don't claim.
| ManyPets Policies | Vet fee cover | Type of cover | Dental cover | Legal (dogs only) | Pre-existing conditions cover |
| --- | --- | --- | --- | --- | --- |
| Complete | £15,000 | Lifetime | Accidents and illness | £3m | Cover for conditions that ended 2 years ago |
| Regular | £7,000 | Lifetime | Accidents only | £2m | Cover for conditions that ended 2 years ago |
| MoneyBack | £7,000 | Lifetime | Accidents only | £2m | Cover for conditions that ended 2 years ago |
| Pre-existing | £7,000 | Lifetime | Accidents only | £2m | £500 (year 1), £1,000 (year 2) |
| Value | £3,000 | Lifetime | Accidents only | £1m | Cover for conditions that ended 2 years ago |
| Liability Only | n/a | 3rd Party Liability | n/a | £3m | n/a |
ManyPets Complete
ManyPets' highest-tier policy is their "Complete" plan. The Complete plan includes £15,000 of lifetime vet fee cover including dental (accident & illness) and £2,500 of cover for travelling abroad with your pet.
ManyPets Regular
ManyPets' Regular plan includes up to £7,500 of annually renewing vet cover; those with pets under the age of 9 have the option of no excess (this will increase your premium, however). Option to pay no excess, although this will increase your premium.
ManyPets MoneyBack
Policyholders get 20% of their premium back each year that they don't receive a claim payout. How much is this really worth? ManyPets reported that customers who didn't claim got back £69 on average. Lifetime cover of up to £7,000 a year.
ManyPets Pre-Existing Conditions
£500 of vet fee cover for pre-existing conditions so long as your pet has been treatment, medication and advice free for three months before your policy starts. This limit increases to £1,000 the second year if you don't claim for the condition in the first year. By the third year, that condition may not be considered a pre-existing condition at all if your pet has been healthy and claim free. The vet limit on new conditions is up to £7,000 every year.
FAQs
ManyPets pet insurance is underwritten by Great Lakes Insurance SE.
ManyPets is a company that offers insurance products for groups of people with specific needs, negotiating with insurers on behalf of members. ManyPets also has its own pet insurance products. Membership is free, and more than 400,000 people have already signed up.
ManyPets can pay the vet direct—which you can indicate in the Snap Claims system when you make a claim.
Once a claim is approved, ManyPets will pay by BACS transfer direct to your account.
Yes. ManyPets offers a 15% multi-pet discount for pets on the same policy.
ManyPets Phone Number
If you have any remaining questions, you can call ManyPets:
| Get in Touch with ManyPets | Contact Numbers | Open Times |
| --- | --- | --- |
| Claims | 0333 130 4552 | 9-5 Monday to Friday |
| Customer Service | 0345 340 4090 | Monday to Friday 9 to 7 and Saturday 9 to 5:30 |
Other Useful Information
How does ManyPets Insurance Compare to Competitors?
To better understand the value of ManyPets pet insurance you need to look at it in the context of other available options. We compared it to other plans in the market so you can see which may be more suitable for you.
ManyPets Insurance vs Agria Pet Insurance
Agria Pet Insurance offers comprehensive Lifetime plans for lower-than-average prices. They're able to charge lower premiums by having the pet owner pay a 10% copay in addition to the fixed excess (of £95 or £160 for dogs, £85 or £160 for cats). We like that Agria is a specialist pet insurer with a long history. Agria plans offer some desirable features, such as dental, euthanasia and cremation/burial, plus congenital conditions are not excluded. The cost for a young, healthy crossbreed dog is around £350 per year for a plan with £6,500 of vet cover and a £95 fixed excess + 10% copay; a British shorthair with an £85 excess + 10% copay would cost around £325 for the same level of cover.
Bottom Line: If you want a lower upfront premium, Agria can be a good option—but you'll have to pay a larger share of any vet bills that arise. Agria doesn't cover pre-existing conditions.
ManyPets Insurance vs Petplan Pet Insurance
Petplan Pet Insurance offers time limited and Lifetime cover with limits from £3,000 to £12,000. Pet owners have a year to submit claims many vets are accustomed to working with Petplan, and can therefore submit claims on your behalf. A 20% copay is introduced on top of the fixed excess (e.g., £110 for dogs on Lifetime policies) for pets (aged 10+ in most cases).
Dental injury and illness are covered, but there's no 24-hour vetfone or euthanasia cover.
Bottom Line: The excess is higher with Petplan, and they don't include a vet helpline or euthanasia or pre-existing cover. Petplan is, however, the UK's largest insurer and they're known for quick payouts.
ManyPets Insurance vs Animal Friends Pet Insurance
Animal Friends Pet Insurance is a specialist pet insurer, whose plans stand out for lower-than-average premiums (partially achieved through per condition limits, even on Lifetime plans) and they publicly state on their website that they don't penalize for claims by increasing premiums upon renewal. Animal Friends also accepts older pets onto Lifetime cover. They don't have dental cover or a vet line to call with queries, however, plus claims need to be submitted more quickly, within 90 days.
Bottom Line: If finding a budget price is your main priority, try comparing quotes from Animal Friends against ManyPets' Value plan.
Comments