Home Insurance
Average Cost of a Mattress 2021
In order to get a great night's sleep, you're going to need an equally great mattress, but what costs are you likely to incur when buying one? Here's everything you need to know about the average cost of a mattress.
With mattresses ranging in price from £100 to £3,000 or more and needing to be replaced every 7-10 years, buying a mattress can be a significant financial investment. But buying a good mattress is integral to your health and overall wellbeing. To help you get the best night's sleep, learn about typical mattress costs in the UK before you invest in a new mattress.
How Much do Mattresses Cost?
Mattresses vary drastically in price depending on factors that mainly relate to size and composition. For example, a cheap single pocket-sprung mattress could set you back as little as £100. This is fine for those on a strict budget, but it does not offer comfort and a poor mattress might not only disrupt your sleep but could also cause muscular discomfort too. On the other end of the scale, Tempur mattresses can cost over £3,000 and offer the most premium of quality, build and design. However, this is out of most people's budget. Similarly latex mattresses offer additional support and comfort, but at an increased price.
The good news is that there are many different mattress retailers to choose from and mattress discounts are quite common, especially around bank holidays. In addition, many online retailers will give you a coupon code to use on your first purchase, which could add up to quite a sizeable discount given mattresses are an investment purchase.
| Average Cost of UK Mattresses | Single | Double | King | Super King |
| --- | --- | --- | --- | --- |
| Memory Foam Mattress | £271 | £375 | £456 | £579 |
| Pocket Sprung Mattress | £209 | £272 | £324 | £394 |
| Latex Mattress | £402 | £516 | £588 | £704 |
| Super Premium Mattress (e.g., Tempurpedic, Four Seasons, etc.) | £1,792 | £2,344 | £2,871 | £2,989 |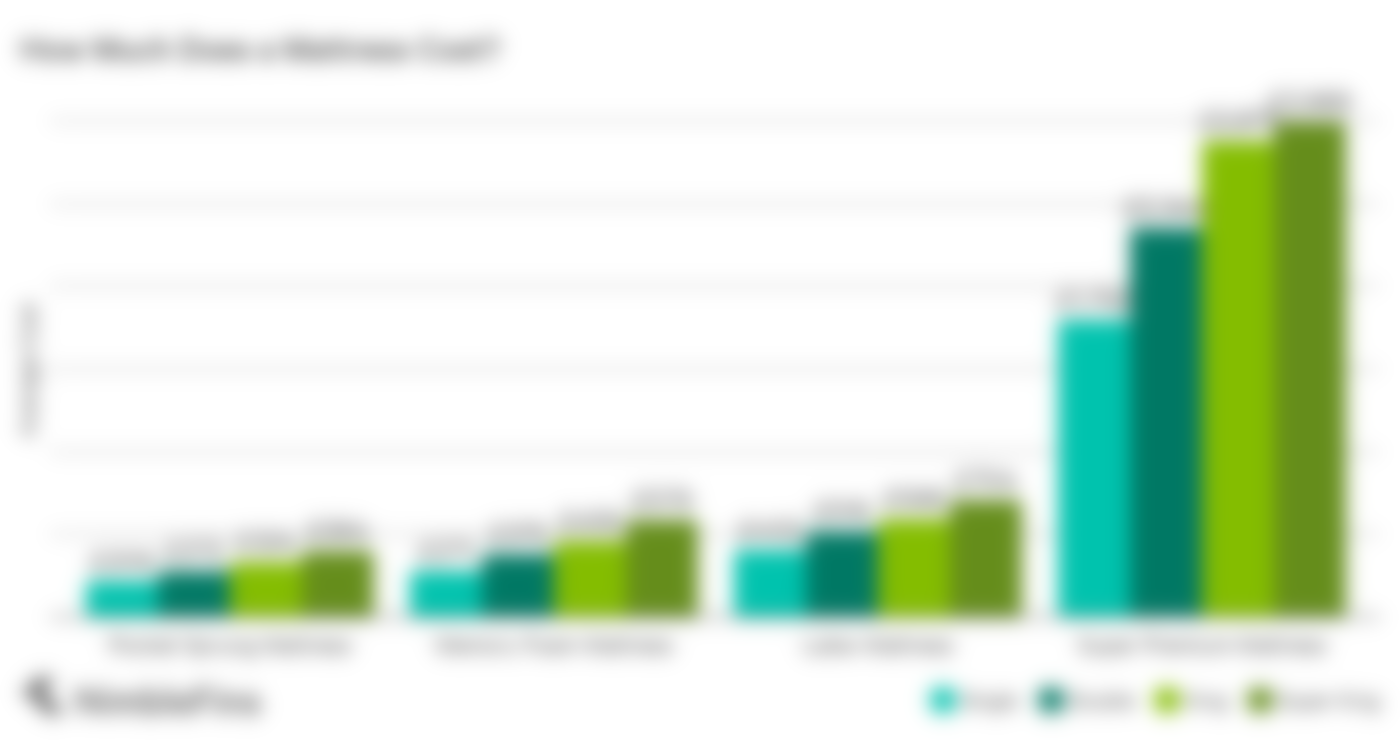 Cheap Mattress Suppliers
There are a number of reliable online mattress suppliers to chose from if you're after an affordable price—many of which can deliver the next business day. Here are a few:
Mattress Online
Mattress Online has great customer reviews, earning 4.8 stars out of 5 by over 30,000 customers on
Trustpilot
. Happy customers rave about mattress quality and excellent service and delivery. Their range includes big names such as Silentnight, Sealy, Rest Assured, and Sleepeezee. The company has frequent sales with up to 60% off and was named Online Bed Retailer of the Year 2019-2020 by the National Bed Foundation.
Mattress Next Day
Mattress Next Day has great customer reviews, earning 4.6 stars out of 5 by 10,000 customers on
Trustpilot
. Satisfied customers report very good communication and service from the delivery team, and are glad that their old mattresses can be taken and recycled. Their range includes Silentnight, Sealy, Relyon, and Sleepeezee, among others. Sales can reach up to 70% off, often around bank holidays.
Average Cost of an Air Mattress
Air mattresses start from around £10 for a single air mattress, but you for a deluxe double you can pay upwards of £30. Air mattresses are excellent for guests, camping and festivals. One of the biggest pros is that air mattresses can be bought for an extremely low price, as they are not intended for regular use. One of the points to note however is that air mattresses are typically only sold in single or double, with king and super king sizes proving extremely rare to find.
| How Much is an Air Mattress? | Single | Double | King |
| --- | --- | --- | --- |
| Argos | £9.99 | £19.99 | £24.99 |
| Amazon | £8.15 | £13.65 | £21.95 |
| Go Outdoors | £20.00 | £30.00 | N/A |
| Average | £12.71 | £21.21 | £23.47 |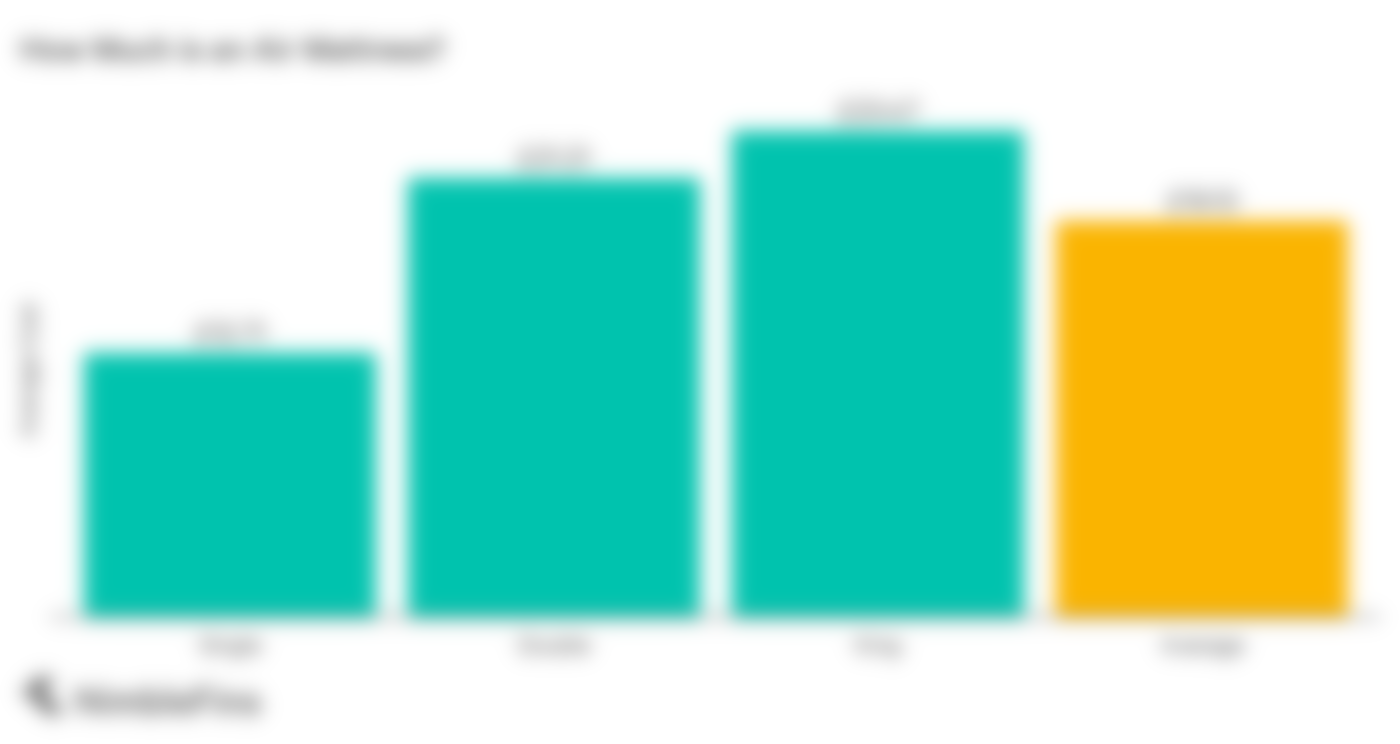 Average Cost of an Air Bed
Air beds cost around £67, but range in price from £59.99 for a single up to £79.99 for a king size. While they cost noticeably more than an air mattress, air beds provided an extra dose of comfort and luxury and make for an ideal option for guests staying over. An air bed's raised height resembles a regular bed as opposed to an air mattress which is very low to the ground. When budgeting for an air mattress, keep in mind the cost of a pump for your air bed, as unlike with an air mattress they are challenging to inflate manually.
| How Much is an Air Bed? | Single | Double | King |
| --- | --- | --- | --- |
| Yawn | £59.99 | £69.99 | £79.99 |
| Sable | £55.99 | £63.99 | N/A |
| Active Era | £59.99 | N/A | £69.99 |
| Average | £58.66 | £66.99 | £74.99 |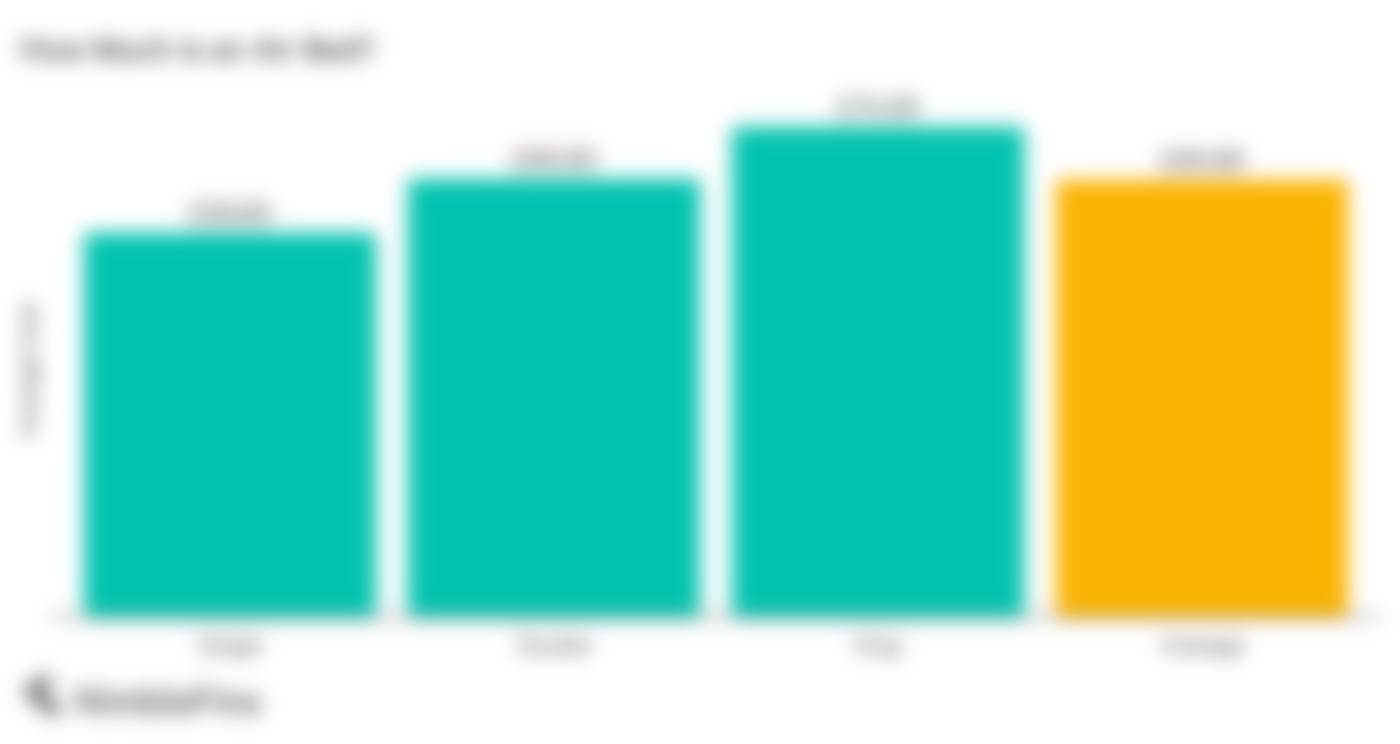 How Much Does Mattress Delivery Cost?
Mattress delivery is often free, but some companies charge around £30. For example, United Carpets and Beds have a general delivery charge of £30 on mattresses, no matter what your overall spend might be. They will also charge for the removal of your old bed and packaging of your new bed or mattress.
However, Silent Night offers free next day delivery—a deal offered by many premium mattress manufacturers. If you buy your mattress through Amazon, so long as the purchase is over £20 then this will also be free, plus you will have more choice over the delivery location and date.
How Much Does Mattress Recycling/Removal Cost?
The average cost to remove a mattress for recycling is around £25, but varies depending on where you live and how you do it. Due to its size a mattress cannot be put in the regular waste or recycling, so you can either arrange for a special rubbish collection through your local authority, hire a local disposal company, or take your mattress to a tip or recycling point yourself—though depending on the location you may incur a charge.
Additionally some mattress companies will remove your old mattress for free or a charge when they deliver your new one, so it's worth checking in advance as this can save you time, money and effort. Here are your options for having a mattress removed:
Mattress Removal Options
Take it to the tip or recycling point yourself
free or a charge
Special collection from your local council
free to £75
A professional disposal company
£15 to £53.99
You new mattress provider
free to £40
Below we detail the costs from popular UK mattress suppliers and mattress removal companies, so you know what your options are. For example, Emma Mattresses offer a collection service for £35, whereas Collect Your Own Bed have mattress disposal services starting at £11.99:
Cost to Remove or Recycle a Mattress
Bensons for Beds
free
Casper
£15
Any Junk
£18
Junkhunters
£20
Ikea
£20
Mattress Online
£24.99
Dreams
£25 single, £35 double, £40 king & super king
Silent Night
£30
Collect Your Old Bed
£32.99 single, £40.99 double, £47.49 king, £54.99 super king
Eve
£35
Emma
£35
Tempur
n/a
Leesa
n/a
Sleeping Duck
n/a
If you do use an external waste removal service, you should ensure it is legitimate to avoid possible fly tipping.
How Much Does Professional Mattress Cleaning Cost?
You should expect to pay between £20 and £40 for professional steam cleaning, depending on the size of your mattress. Your bed might be a comfortable place to rest your head at night, but it's also home to a host of bacteria, dust mites and in some cases bed bugs. With this in mind, it's wise to get your mattress professionally cleaned every once in a while. Be aware that some companies have a minimum £50 call out charge, so it's worth combining the job to include all mattresses in your home to avoid unnecessary costs.
| How Much Does Professional Mattress Cleaning Cost? | Single | Double | King | Super King |
| --- | --- | --- | --- | --- |
| Elliots | £20 | £25 | £30 | £35 |
| Cosmo Cleaning | £20 | £25 | £30 | £35 |
| Prolux Cleaning | £20 | £25 | £30 | £40 |
| Average | £20 | £25 | £30 | £37 |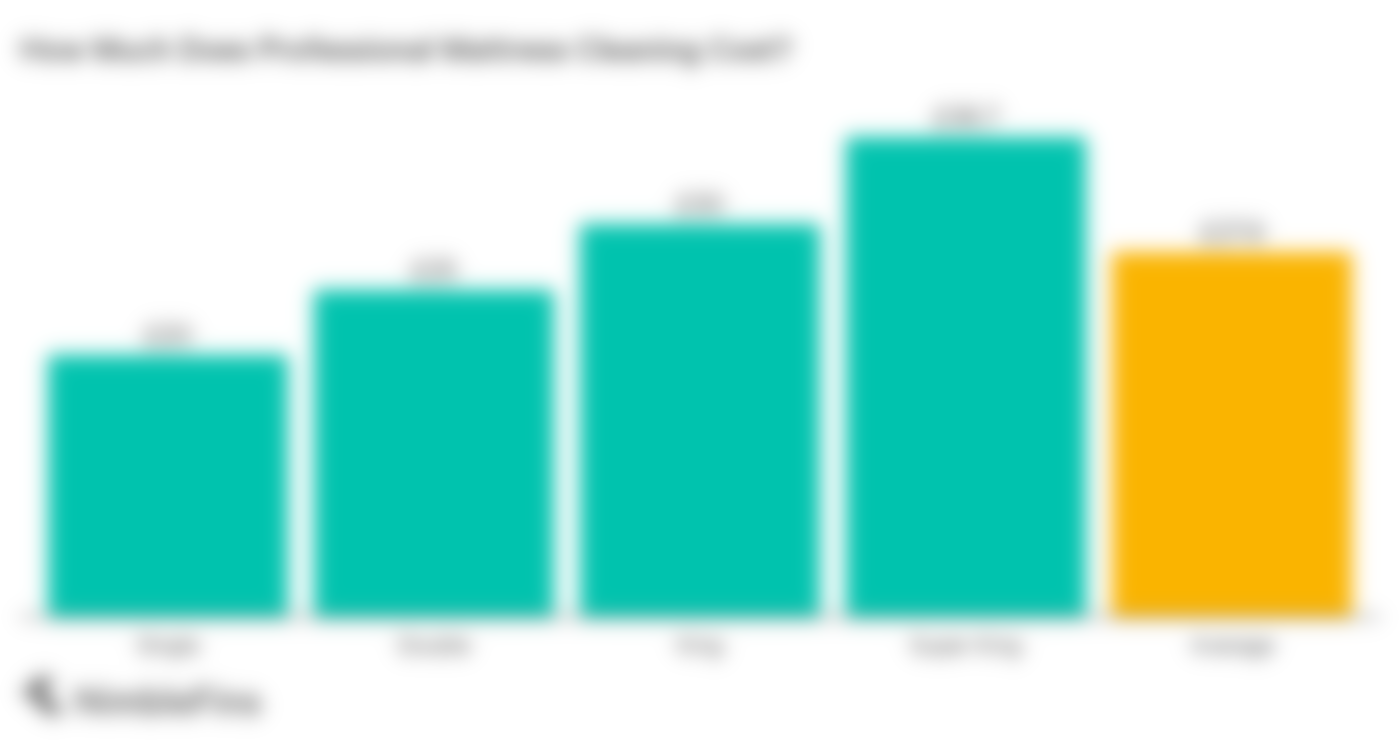 In addition to the size of the mattress, some cleaning companies will also price based on the level of cleaning required so it may require some research to find a quote which best suits your needs.
How Long Will a Mattress Last?
The average mattress has a lifespan of just 7-10 years, with some mattresses only lasting 5 years. How long your mattress lasts for depending on the material used, the quality of the build but also how well you take care of it. For example, not using a mattress protector, failing to turn your mattress often or even allowing small children to jump on the mattress are just some of the factors which can reduce the life span of your mattress.
There is also the issue of hygiene, as mattresses can harbour dust mites and bacteria, meaning they do need to be changed every few years in addition to being cleaned regularly. All of this can soon add up to being a very costly purchase.
Methodology
To determine an average cost of mattresses in the UK, we gathered prices for pocket sprung, latex and memory foam mattresses in single, double, king and super king sizes from the following retailers:
Eve
Leesa
Casper
Sleeping Duck
Bensons for Beds
Dreams
Mattress Online
Silent Night
Emma
Argos
Inofia
Simpur
Super Premium
Tempur
Tempur
Four Seasons
Comments