The guidance on this site is based on our own analysis and is meant to help you identify options and narrow down your choices. We do not advise or tell you which product to buy; undertake your own due diligence before entering into any agreement. Read our full disclosure here.
Flood Re Scheme: House Insurance for Flood Risk Areas
If you live in a flood-prone area, it may be difficult to find home insurance at a reasonable price. With costs to dry out and repair a flooded home easily running into the tens of thousands of pounds, insurers may be wary of or unable to offer home insurance cover (or sometimes only at a high premium). So how can you find affordable insurance if your home sits in a flood risk area? We'll explain how Flood Re works to insure buildings and contents in zones more prone to flooding.
Which Insurers Have the Cheapest Flood Home Insurance?
Insurers working with Flood Re are likely to offer the cheapest home insurance for flood-prone houses; but not all insurers work with the Flood Re scheme. As a result, you may receive drastically different quotes from different insurers, depending on whether or not they benefit from Flood Re. (See our guide on the average cost of contents insurance to have price ranges in mind.) If you live in a flood-prone area, the insurers who work with Flood Re may be in a better position to offer more affordable home insurance, whether you need buildings or contents cover, or both.
Insurers Working with Flood Re
Admiral
Ageas
AIG
Allianz
Avantia
Aviva
Axa
Bank of Scotland
Barclays
British Gas
Chelsea Building Society
Cherish Insurance Brokers
Churchill
Clydesdale Bank
Direct Line
esure
First Direct
Halifax
Haven Insurance
Hiscox
HSBC
inet3 
Leek United Building Society 
Legal & General 
Lloyd & Whyte 
Lloyds Bank 
LV= 
Marks & Spencer Bank 
More Than 
MS Amlin 
Nationwide 
Natwest 
NFU Mutual 
Norwich & Peterborough Building Society 
Nottingham Building Society 
Oak Underwriting 
Ocaso 
Policy Expert 
Privilege 
RBS 
Sainsbury's Bank 
Santander  
Sheilas' Wheels 
Swiftcover 
The West Brom 
Yorkshire Bank 
Yorkshire Building Society 
You may not have heard of Flood Re, as it doesn't work with the public but instead works behind the scenes with insurers to take on flood risk. Those living in a flood area may save significant amounts on home insurance premium through Flood Re, without even realizing it.
How Does Flood Re Work?
Flood Re is an organization designed to make home insurance more affordable for those in flood risk areas. Flood Re works directly with insurance companies, enabling insurers to pass on the flood risk part of a home insurance policy to Flood Re. Since the insurers have passed on the flood risk to Flood Re and aren't at risk themselves, in theory the insurers can offer more competitive home insurance premiums to consumers.
Flood Re is funded by an annual tax that is collected from UK home insurers. These funds (£180 million per year) go to reimburse the insurer in the event of a valid flood claim. If you ever need to make a flood-related claim, you contact your insurer directly (not Flood Re).
Is Your Policy Eligible for Flood Re Benefit?
Not all properties will benefit from Flood Re scheme. Properties are eligible if they satisfy all of the following criteria:
Covered by an insurance policy held in the name of/trust for at least one individual (or the personal representative of an individual)
The policyholder, or their immediate family, must live in the property at least some of the time or the property must be unoccupied
Domestic Council Tax band A to H (or equivalent)
Private, residential use
Single residential unit or a building with no more than 3 residential units
Insured on an individual basis or pay an individual premium
Built before 1 January 2009 (if built before 1 January 2009 then subsequently demolished and rebuilt, the new home is eligible)
Located in the UK (excluding the Isle of Man and the Channel Islands)
So long as these eight criteria are satisfied, the following properties may be eligible for Flood Re benefit, subject to conditions: bed & breakfasts, farmhouses (where the dwelling is split out from any commercial policy), holiday/second homes, properties occupied by home workers, individual leaseholders, leasehold blocks (with up to 3 units, one of which is occupied by the freeholder), residential 'buy to let' and static caravans. More information on eligibility can be found on the Flood Re website.
Do I Live in a Flood Risk Area?
Before shopping for home insurance, it can be useful to understand if your house falls in a flood risk area. You can check the long-term flood risk for your postcode at the gov.uk website.
Alternatively, you can view a flood map on the gov.uk site, which shows flood risk from rivers/seas, surface water and reservoirs. Additionally, the flood risk maps show detailed information such as the extent of flooding and risk levels for depth and speed of water.
Flood Risk Map from Gov.uk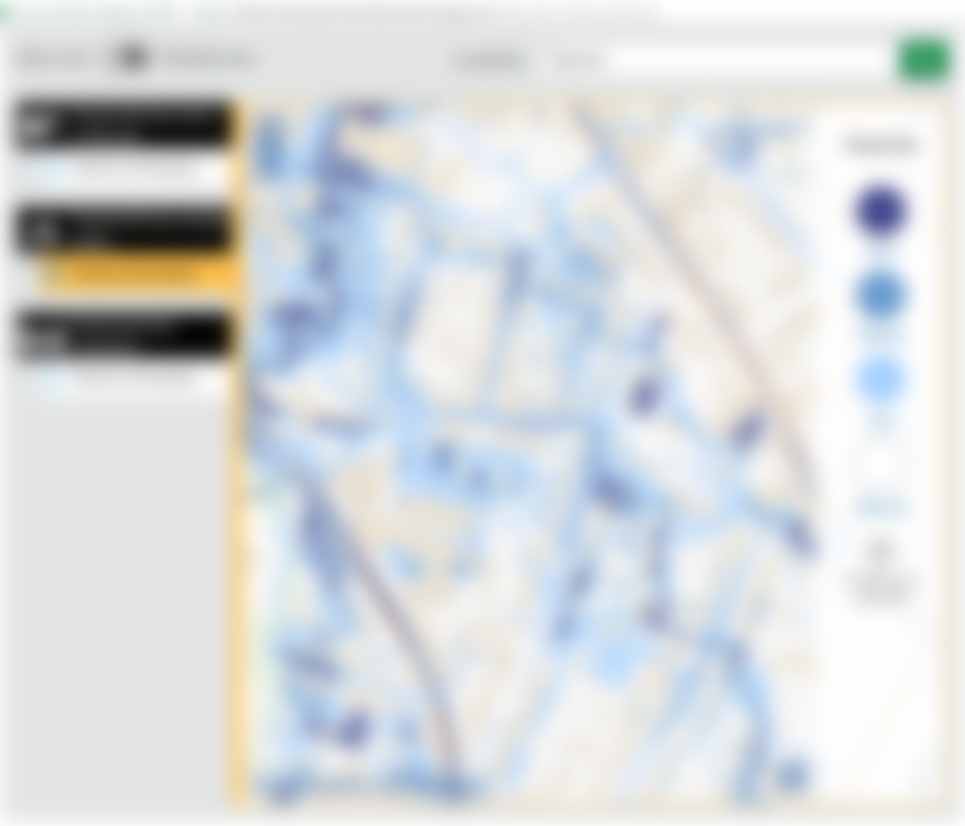 If your home is flooded, follow these steps to help mimimise the damage.
Comments