Aqua Classic Credit Card Review: The Most Popular Aqua Card
Aqua Classic Credit Card Review: The Most Popular Aqua Card
With free text reminders to keep you on top of your finances and the chance to increase your credit limit in 4 months, the Aqua Classic is a solid card for rebuilding credit
Good for
May accept those with limited or no credit history
Free aqua Credit Checker
Free text reminders and credit report
Increasing credit limit in future
Bad for
As a credit builder card, interest rates are higher than average
The guidance on this site is based on our own analysis and is meant to help you identify options and narrow down your choices. We do not advise or tell you which product to buy; undertake your own due diligence before entering into any agreement. Read our full disclosure here.
The Aqua Classic Credit Card is Aqua's most popular credit card, and it is aimed at people with no credit history or a bad credit history. Is this the best card for you? Read our review to learn more about it.
Aqua Classic Credit Card Review: What You Need to Know
The Aqua Classic Credit card is a solid option to consider for those with weak credit scores, as it may accept you even with limited or no credit history. As a credit builder card, it might accept you even if you're self-employed, you've had problems paying bills in the past or you don't have much current income.
Aqua Eligibility Checker
Aqua has a free Credit Checker, so potential applicants can see the odds of being accepted before applying—without leaving a mark on their credit record.
What is the interest rate on the Aqua Classic?
The Aqua Classic interest rate is 37.9% representative APR (variable), based on a credit limit of £1,200. The rate will varies from person to person but at least 51% of applicants will get this Representative rate. The other 49% of applicants may get a higher interest rate.
The Classic's 37.9% variable APR is slightly lower than the average credit builder interest rate, however you should always try to pay off your full balance every month if possible, to avoid paying what can amount to large interest charges over time.
What we Like
Aqua offers a number of nice features for those trying to get a handle on their finances, including the ability to change the monthly payment date. By scheduling the statement due date to coincide with your pay day, for example, you may have more funds available to pay down as much of the credit card balance as possible.
Another beneficial feature is free text reminders from Aqua that you can enable online to help you remember to pay (if you just tend to forget like a lot of people) and to alert you that you're nearing your credit limit. Customer service has suggested these notices are sent out when you've reached around 80% of your maximum limit. Staying within your limit and paying on time are very, very important to your credit score.
Bottom Line: The Aqua Classic can be a great tool for those with a shaky credit history, but try to pay down your balance every month due to high interest rates and always pay on time. We like the payment text reminders and the ability to change your statement due date to fall just after your pay day.
Aqua Classic Benefits & Features
Aqua Classic Card Features
Credit Limit Increases
By staying within your credit limit and making your minimum payment on time, you may be eligible for a credit limit increase every fourth month.
Transaction Fees
Non-sterling transaction fees of 2.95%
Cash Withdrawal Fee
3% fee at home and abroad (£3 minimum)
Initial Credit Limit as low as
£250 to £1,200
Text Reminders to help you

Pay on time
Stay under credit limit

Annual Fee
£0
APR

37.9% variable APR on purchases
47.95% variable APR on cash withdrawals
Potential Interest Charges
As a credit-builder card, the interest rates on the Aqua Classic are higher than average. The representative APR is 37.9% on the card, which means that 51% of the applicants will receive a 37.9% interest rate on their purchases. The other 49% of applicants will receive higher interest rates.
To give you an idea of the cost of carrying a balance on a credit-builder card, the chart below shows how much interest you'd pay in total when paying off £1,000 at 37.9%, depending on how much you are able to pay per month.
As you can see, carrying a balance can be very expensive, especially on a credit builder card with a high interest rate; paying even a little bit more each month can really lower the total amount you pay in interest charges over time. While it's critical to pay at least the minimum amount due each month, paying only this much means you'll end up paying 2X as much in interest charges over time as your original balance!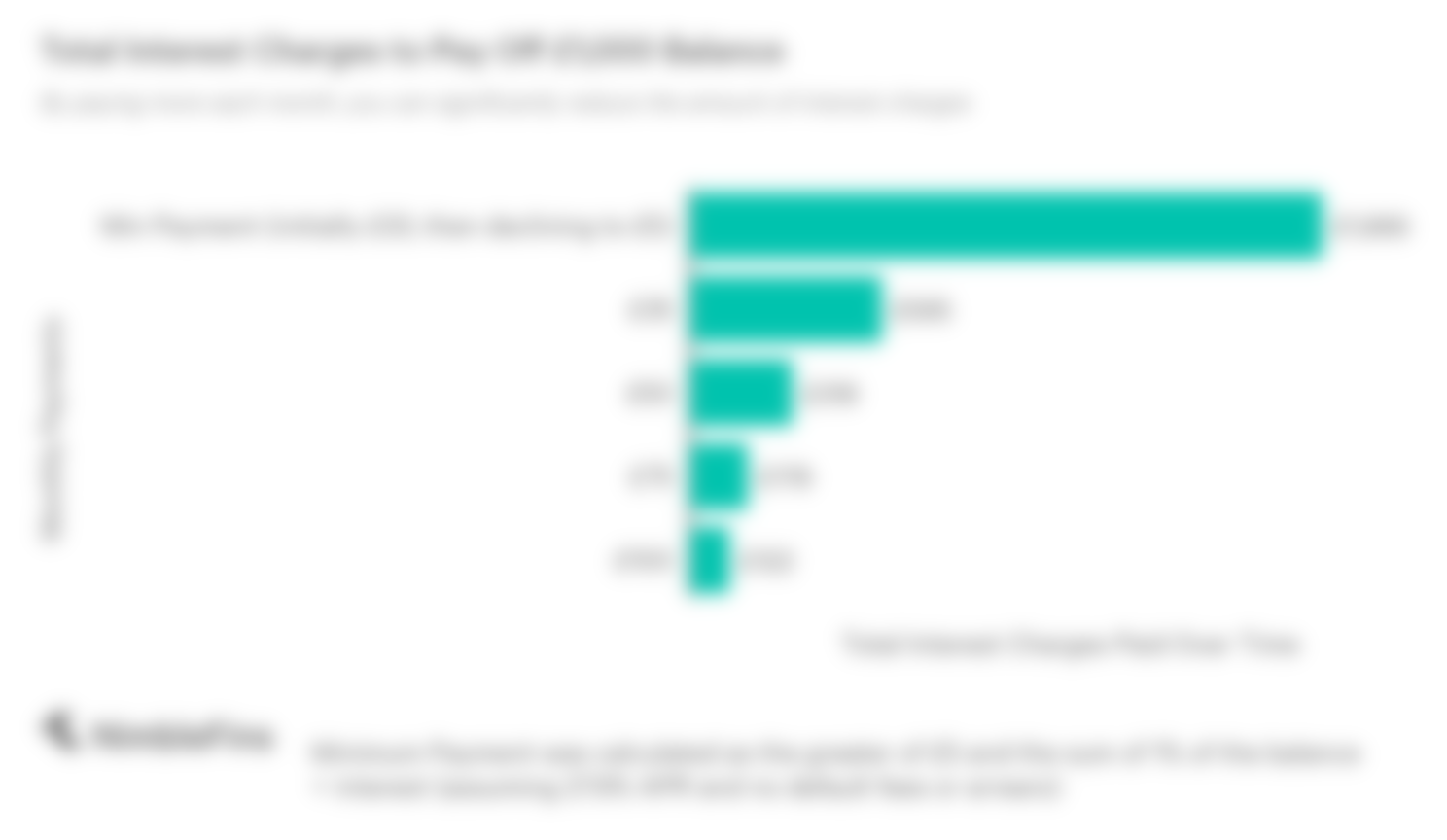 Grace Period on Over Limits
According to customer service, the Aqua card may offer you a grace period for overreaching your credit limit—this is at the discretion of the collections team and there is certainly no guarantee this will happen. Cardholders who exceed the credit limit could receive a text message notification and the opportunity to fix the situation. This grace period is not guaranteed, especially for those with a history of exceeding the credit limit, not paying on time, etc.
If you're given a grace period, you'll have up to 48 hours to deposit money into your account to bring the balance under the maximum limit. By doing so you can avoid the £12 over-limit fee and a negative mark on your credit history. The grace period probably works better on a Monday/Tuesday/Wednesday than a Thursday/Friday/Saturday since transfers may not arrive until the next working day.
For example, if you go over the limit on a Friday, a payment made on Friday evening may not arrive until Monday, missing your 48-hour grace period window that would end on Sunday. In any case, if you find yourself in this situation be sure to make a transfer the same day during business hours for the best shot of bringing your account back under the limit within the grace period. Be sure to sign up for text alerts and keep Aqua in the loop if your contact details change, so they have a better chance of getting in touch with you if you exceed your credit limit.
| Day you Exceed Credit Limit | Potential Grace Period ends on... | Effectively need Account in order by... |
| --- | --- | --- |
| Monday | Wednesday | Wednesday |
| Tuesday | Thursday | Thursday |
| Wednesday | Friday | Friday |
| Thursday | Saturday | Friday |
| Friday | Sunday | Friday |
| Saturday | Monday | Monday |
| Sunday | Tuesday | Tuesday |
Credit Limit Increases
Initial Aqua Classic credit limits fall between £250 and £1,200, and will depend on your application and credit record. A lower credit limit can be a bit safer for those looking to keep up with monthly payments, especially those trying to pay the full balance every month.
After three to four months with the card, Aqua may reevaluate your situation. By properly managing your account (i.e., paying on time and staying within your credit limit), your credit limit could be increased in your fourth month. If it is, this should have a positive impact on your credit score. This is especially true once your credit limit £1,000. Every subsequent four months, your limit may be evaluated and raised again—but there's no guarantee you'll get an increase.
FAQs
The starting Aqua Classic credit card limit is between £250 and £1,200, depending on your credit history.
The Aqua Classic is a credit-builder card that has one interesting feature: every four months with the card, Aqua will reevaluate your situation and may increase your credit limit if you've properly managed your account (i.e., payed on time and stayed within your credit limit).
How does the Aqua Classic Card Compare to Other Credit Cards?
To better understand the value of the Aqua Classic Card you need to look at it in the context of other available options. We compared this card to other similar cards so you can see which may be more suitable for you.
Aqua Classic Card vs Vanquis Classic Card
The Vanquis Credit Card Review is another popular UK credit builder card. Applicants with no credit history, poor credit history or are unemployed are all considered. Initial credit limits are lower, between £150 and £1,000, with a representative APR of 39.9%. Potential applicants can use the pre-application eligibility checker to see their likelihood of being accepted before they apply (useful to help avoid an unnecessary hard credit check and a rejected application).
Quick Takeaway: You're likely to pay a higher interest rate with the Vanquis Classic, but if you're not eligible for the Aqua card due to a bad credit rating you may still be accepted by the Vanquis Classic. It may be worth trying the pre-application check with the Vanquis Classic if you're not sure.
Aqua Classic vs Chrome Credit Card
The Chrome credit card, also by Vanquis, is also designed for those with bad credit who want to rebuild their credit rating. Initial credit limits are a touch higher, between £250 and £1,000, with a representative APR of 29.5%.
Quick Takeaway: The Chrome and Aqua Classic have very similar interest rates. Use the eligibility checker to see if you're eligible.
Aqua Classic vs Aquis Credit Card
The Aquis credit card is another Vanquis credit builder card. Initial credit limits are between £250 and £1,000, with a representative APR of 29.8%.
Quick Takeaway: The Aquis and the Aqua Classic offer similar interest rates and features. Use the eligibility checker] to find out if you could be accepted.
Comments