Marbles Credit Card Review: The Credit Builder Card for You?
Marbles Credit Card Review: The Credit Builder Card for You?
A card to help you get your credit back on track with free text alerts and possible credit limit increases every 4th month
Good for
Those new to credit or with poor credit
Free text reminders
Increasing credit limit
Possible grace periods if you exceed the credit limit
Bad for
Those wanting a low interest rate
Carrying a balance month to month
Using abroad
The guidance on this site is based on our own analysis and is meant to help you identify options and narrow down your choices. We do not advise or tell you which product to buy; undertake your own due diligence before entering into any agreement. Read our full disclosure here.
Marbles is a basic but solid credit-building card for those with limited or poor credit history in the UK. But how do its features compare? Read our review to find out more.
Marbles Credit Card Review
As a first credit card, the Marbles card can be ideal for those new to credit or those who have recently moved to the UK. Interest rates are high on the Marbles card, however, so try to pay the whole balance every month to avoid large interest charges and prevent debt from building up. Free text alerts can help you stay under your credit limit and remember to pay on time.
The Marbles card is one of the best "credit-builder" cards in the market, targeted at those with poor credit or no credit history in the UK. Like other credit-builder cards, it can a great tool to build up a poor or limited credit history by paying at least the minimum monthly payment on time and staying under the credit limit to demonstrate that you can handle credit responsibly.
Free SMS/text alerts to help you manage your account are an important feature. These alerts can help you remember to pay on time and stay under your credit limit—especially important for anyone working to improve their credit rating.
Are you eligible?
The Marbles' FastCheck eligibility checker is a tool you can use before you apply, to see your likelihood of being accepted without leaving a hard credit search on your credit record.
FastCheck performs a soft credit check, which has no impact on your credit rating and can't be seen by other potential lenders (you, however, can see soft checks when you review your own credit report). Eligibility checkers can help you avoid an unsuccessful application—if you're going to be rejected, you'd rather know that beforehand so you don't apply. Why? Because every application leaves a hard check on your credit file.
Grace Period on Over Limits
The Marbles card apparently may offer a grace period for overreaching your credit limit, at the discretion of the collections team. We've spoken to customer service and they said that cardholders who exceed the credit limit could receive a text message notification and the opportunity to fix the situation—but this is not guaranteed. For instance, those with a history of exceeding the credit limit, not paying on time, etc., will probably not be offered a grace period.
Those given a grace period have the chance to bring their account back under the credit limit within 48 hours, thereby avoiding the £12 over-limit fee or a mark on their credit record. It seems this system works better on a Monday/Tuesday/Wednesday than a Thursday/Friday/Saturday since money won't transfer over the weekend. In any case, make a transfer the same day for the best shot of bringing your account back under the limit within the grace period, as you can see in the following table. Update Marbles if your phone number changes, so you can be contacted if you exceed your limit.
| Day you Exceed Credit Limit | Potential Grace Period ends on... | Effectively need Account in order by... |
| --- | --- | --- |
| Monday | Wednesday | Wednesday |
| Tuesday | Thursday | Thursday |
| Wednesday | Friday | Friday |
| Thursday | Saturday | Friday |
| Friday | Sunday | Friday |
| Saturday | Monday | Monday |
| Sunday | Tuesday | Tuesday |
Credit Limit Increases
Your Marbles credit limit may start off as low as £100 to £250. It is very important to work to increase a low credit limit; once your credit limit exceeds £1,000 you should see a positive effect on your credit score. With the Marbles card, your credit limit will be reviewed after 3 months (i.e., your credit limit may increase on your 4th statement).
Cardholders can also manually request a credit limit increase every 4th month. There is no harm in making this request—being turned down for a credit limit increase will not affect your credit score. Only if your limit is raised will Marbles communicate this improvement to the credit agencies.
While a credit limit increase can be beneficial in terms of establishing a positive credit history, they're not good for everyone. According to FCA research, some people who are offered unsolicited credit limit increases end up taking on more debt than they can comfortably pay back. Before accepting a higher credit limit, be sure that it suits your individual financial situation. You can read more about when credit limit increases are beneficial and not in our article on Citizen's Advice's Stuck in Debt study.
Bottom Line: Customers can use the Marbles card, like other credit-builder cards, to improve their credit history over time. Stay within the credit limit, always pay on time, and work to increase the credit limit over £1,000. Due to higher-than-average interest rates of 34.9% APR, we recommend trying to pay down your full balance every month to avoid large interest charges and developing a persistent debt problem.
Marbles Platinum Benefits & Features
Marbles Card Features
Initial Credit Limit as low as
£100 to £250
Credit Limit Increases
May be requested every 4th month
Text Reminders to help you

Pay on time
Stay under credit limit

Annual Fee
£0
APR

34.9% variable APR on purchases
39.9% variable APR on cash withdrawals
Interest Charges
As you would expect, like other credit-builder cards, the Marbles card has a higher-than-average interest rate of 34.9% APR. This won't be a problem if you pay down the full balance every month since there are no interest charges on a cleared balance. You can choose a monthly repayment date that suits you, perhaps just after pay day or to coincide with other bill due dates.
The table below shows how much interest you would incur while paying off a £1,000 balance (assuming a 34.9% APR), depending on the size of your monthly payments.
| Monthly payments | Time to pay off (months) | Total interest charges |
| --- | --- | --- |
| £40 | 46 | £812 |
| £50 | 33 | £520 |
| £100 | 12 | £199 |
| £150 | 8 | £128 |
| £1,000 (pay off full balance by next payment date) | 0 | £0 |
The following charts show how long it will take to pay back a £1,000 balance on a credit card charging 34.9% APR and how much interest you'd pay along the way. You can see how paying even £10 extra a month can make a big difference to how much you pay in interest charges over time and also the time it takes until you've paid off your balance.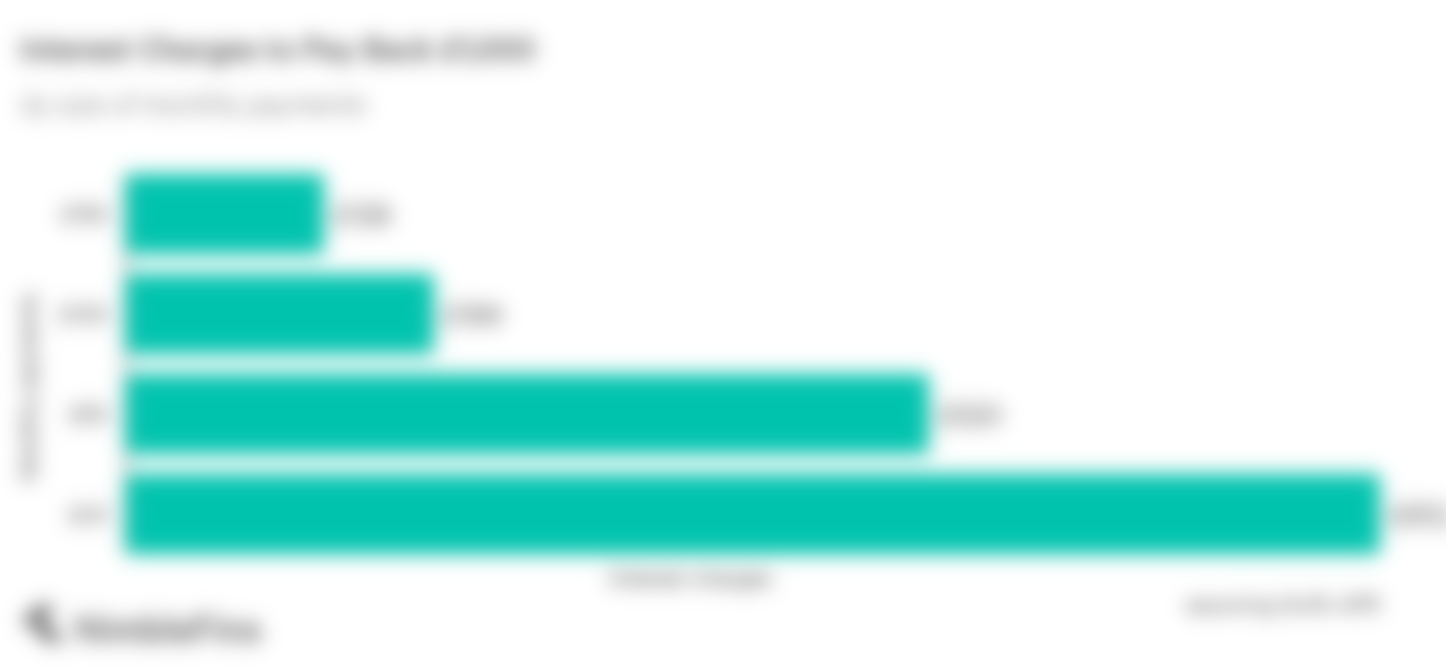 Customer Reviews
Is Marbles a good card? Let's look at some customer reviews from Trustpilot, where over 2,500 customers have rated Marbles with 4.2 out of 5 stars. These real customer comments can give you a glance into life with a Marbles card:
"Great app. Good support."

"A fantastic app that puts me in control of my money and my spending. Application for a card took less than 3 minutes and I had an instant decision. First rate service."

"They increased my credit limit but quickly followed by APR increase."

"Quick and easy to apply online and everything arrived quickly after being accepted. Online services to check balance and pay are easy to use."

"Great card. Easy to monitor using the app. Always able to check my account easily and the email notifications are good too. Paperless"

"Because i hadn't spent anything for a while they just took it upon themselves to reduce my credit limit."

"I am finding it impossible to get into contact with Marbles. For months I have tried to sort out a dispute on my account... Due to not having a phone I can not contact their contact center. When I send them an email I get another email back saying they have passed it to another department and they will contact me within a time frame. Sadly, this never happens... Please can someone contact me."
How does the Marbles Card Compare to Other Credit Cards?
To better understand the value of the Marbles Card you need to look at it in the context of other available options. We compared this card to other similar cards so you can see which may be more suitable for you.
Vanquis Classic vs Chrome Credit Card
The Chrome credit card, also by Vanquis, is also designed for those with bad credit who want to rebuild their credit rating. Initial credit limits are a touch higher, between £250 and £1,000, with a representative APR of 29.5%.
Quick Takeaway: You're likely to pay a lower interest rate with a Chrome card. Use the eligibility checker to see if you're eligible.
Marbles Card vs Capital One Classic Card
The Capital One Classic card is a great card for those with a poor credit history in the UK. Capital One's QuickCheck tool uses a soft search of your credit history, which won't leave a footprint for other potential lenders to see. Capital One virtually guarantees that your application will be accepted if you pass the pre-application QuickCheck (unless they find certain information of fraud prevention databases or can't verify your id). Credit limits of £200 to £1,500, with up to two optional credit limit increases per year.
Quick Takeaway: Very similar credit cards for those working to rebuild their credit rating. Capital One starting credit limits are a touch higher, and may increase twice a year.
Marbles Card vs Vanquis Classic Card
The Vanquis Credit Card is another popular UK credit builder card. Applicants with no credit history, poor credit history or are unemployed are all considered. Initial credit limits are lower, between £150 and £1,000, with a 39.9% variable APR. Potential applicants can use the pre-application eligibility checker to see their likelihood of being accepted before they apply (useful to help avoid an unnecessary hard credit check and a rejected application).
Quick Takeaway: The Vanquis representative APR is around 5 percentage points higher, but if you're not eligible for the Marbles card due to bad credit, it may be worth trying the pre-application check with the Vanquis Classic.
Comments