Aqua Reward Credit Card Review: The Best Perks for Weak Credit?
Aqua Reward Credit Card Review: The Best Perks for Weak Credit?
The only credit-builder card that pays cashback on purchases; plus no FX fees make it good for travel abroad
Good for
Earn 0.5% Cashback on all purchases
No fees on your purchases abroad, making this the card for your holiday
Free aqua Credit Checker
Rebuilding one's credit history
Bad for
Carrying a balance month-to-month
Missed or late payments (you'd lose rewards for the whole year)
The guidance on this site is based on our own analysis and is meant to help you identify options and narrow down your choices. We do not advise or tell you which product to buy; undertake your own due diligence before entering into any agreement. Read our full disclosure here.
Note: The Aqua Rewards card is no longer open to new applications.
The Aqua Reward Credit Card has a unique place in the market as the only cashback rewards card and travel card for those with a weaker credit rating. Offering 0.5% cashback on all purchases, it can be handy for your day-to-day expenses. In addition, it doesn't charge FX fees on purchases made abroad so you can use it when you travel without incurring any FX fees.
Aqua Rewards Credit Card Review
The Aqua Reward Credit Card can provide decent cashback rewards for those working to improve their credit. In fact, it's the only "credit-builder" card that pays cashback (0.5%) on purchases, making this a great card for everyday use.
If your spending is more focused on groceries or fuel, you can find higher rewards of around 1% with a no-fee store-branded card like the Asda Cashback Credit Card—however Asda has just announced that the rewards rates on non-Asda spend is dropping to 0.2%, making the Aqua rewards card better in terms of potential rewards on general spending. Those with a strong credit rating can find higher everyday cashback rewards with the Platinum Cashback Everyday Credit Card by American Express, which is offering a 5% cashback intro period.
In terms of use when you travel, the Aqua Reward can be useful to pay for food & drink, hotels, activities or buying souvenirs, because it doesn't charge FX fees (which are usually around 3%) on purchases made in a foreign currency when you're abroad. While the card can be good for non-sterling purchases, we don't generally recommend using it to withdraw cash from an ATM due to the expense. Cash withdrawals are charged at a higher 44.95% variable APR which starts accruing immediately, plus you'll owe an additional 3% (£3 minimum) Cash Fee and a 3% (£3 minimum) Cash Advance Fee per withdrawal.
What is the interest rate on the Aqua Reward? It varies from person to person but at least 51% of applicants will get this Representative Example: 39.94% standard purchase rate p.a (variable) and 39.9% representative APR (variable), based on a credit limit of £1,200.
Bottom Line: If you have poor credit but are sure that you can pay off your balance in full and on time every month, the Aqua Reward card may be a great tool to earn some cashback rewards while improving your credit score.
Aqua Reward Benefits & Features
Aqua Reward Card Features
Cashback Rewards

0.5% cashback rate on purchases
Capped at £100 a year

Transaction Fees
No non-sterling transaction fees on purchases or cash withdrawals made abroad (but foreign ATM withdrawals will still incur a Cash Withdrawal Fee, which is charged regardless of currency)
Cash Withdrawal Fee
3% fee at home and abroad (£3 minimum)
Initial Credit Limit as low as
£250 to £1,200
Text Reminders to help you

Pay on time
Stay under credit limit

Annual Fee
£0
APR

34.95% variable APR on purchases
44.95% variable APR on cash withdrawals
Aqua Cashback Rewards: The Aqua Reward Credit Card offers 0.5% cashback on purchases, capped at £100 a year. Most users are unlikely to hit this maximum however, as it would require spending £20,000 a year on your card—unlikely given the card's initial credit limit of £250 to £1,200. As a credit builder card, interest rates are high so the card is best suited to those who can pay their balance each month—carrying a balance from month to month would more than wipe out any cashback rewards you earn.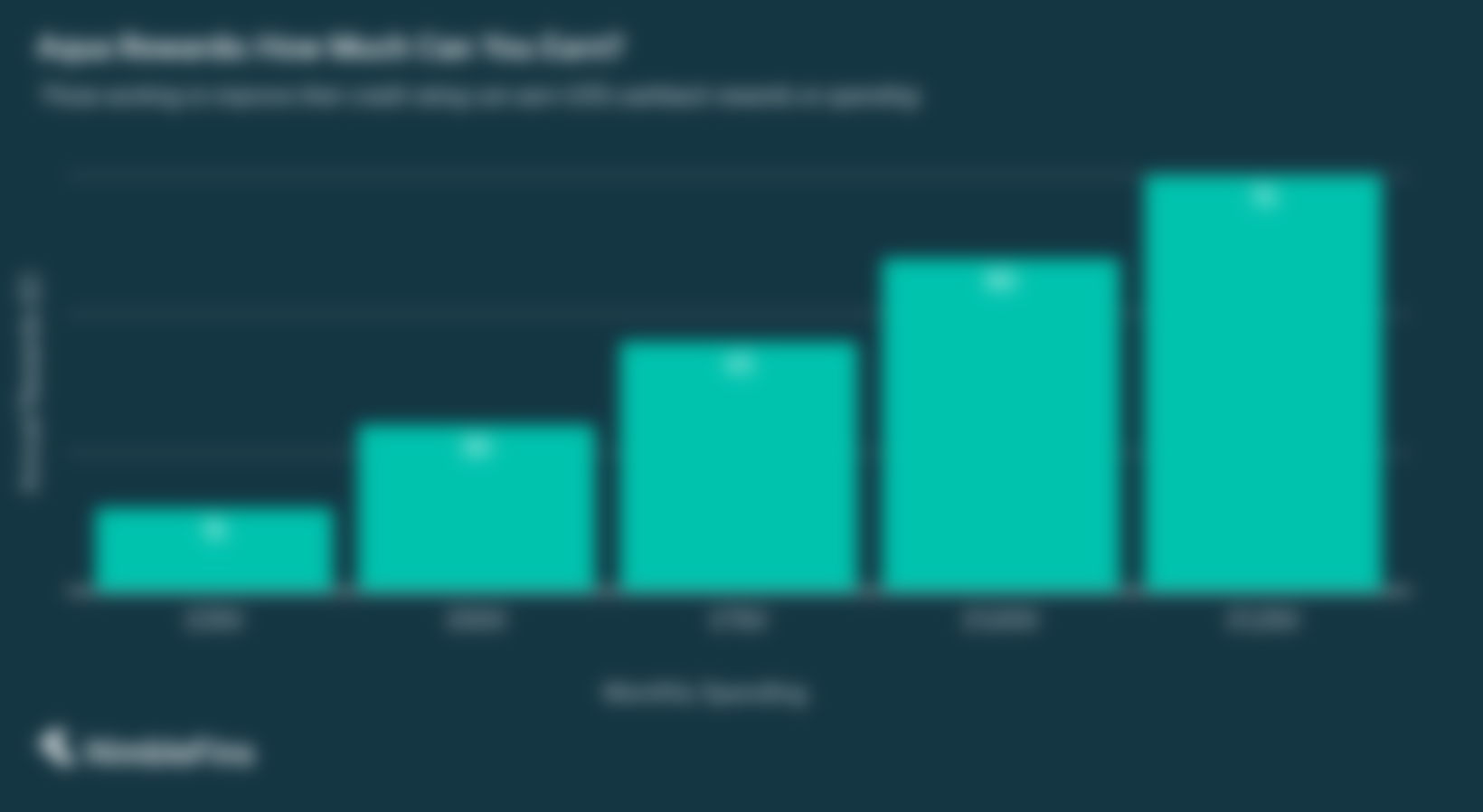 Perhaps the biggest downside to this card is that cardholders must wait to receive their 0.5% cashback rewards—cashback is paid into cardholders' accounts only once a year, provided you have always paid at least the minimum monthly payment, on time. Beware that if you are late on a single payment you will lose all of your cashback rewards for the entire year.
Interest Charges: Aqua cards are designed for those with poor credit. As such, they carry a higher-than-average interest rate on purchases. Like all rewards cards, the balance on this card should be paid off in full and on time, every month. If not, the high interest rate will quickly devour the 0.5% cashback rewards. For example, carrying a balance on £1,000 of new purchases for just one month at an interest rate of 34.91% p.a. will cost you roughly £29. The 0.5% cashback on that £1,000 of purchases is only £5, leaving you with a net loss of £24 for the month if you don't pay down your balance right away. The table below shows the cost to you in the first month (in subsequent months you'd pay an interest charge but not receive any cashback to offset this cost—cashback is only paid once per purchase):
| Balance | Interest Rate | Monthly Interest Cost | 1st Month Cashback | Cost to You of Carrying a Balance (Month 1) |
| --- | --- | --- | --- | --- |
| £1,000 | 34.9% | -£29 | £5 | -£24 |
By carrying a balance from month to month, you would continue to lose money through interest payments. Anyone who can't pay off balances month to month might want to consider a 0% purchases card or a low rate card, like the AA Low Rate Credit Card.
Using the Aqua Rewards Card Abroad: With no FX fees, the Aqua Rewards card can be used for purchases abroad (as can the Aqua Advance credit card). Purchases made overseas on the card don't incur a non-sterling fee (which can be 3% on other cards) and if you pay off in full and on time you won't incur any interest charges either. Cash withdrawals, on the other hand, are not so attractive. Whether at home or abroad, they will cost 3% (£3 min) and start incurring interest IMMEDIATELY, even if you pay off your balance on time and in full. If you absolutely have to withdraw cash, go online and pay off the balance as soon as humanly possible. We generally don't advise taking out cash on this card.
Another tip when you travel—when you are paying for a purchase in another country, they'll ask you if you want to pay in sterling or the local currency. It is generally best to pay in the local currency, and have MasterCard handle the currency conversion.
Aqua Credit Limit: After four months of card ownership, Aqua will consider increasing a user's credit limit (initially £250 - £1,200). This decision is dependent upon recent debt repayment history, including with other creditors such as mobile phone accounts. Credit limit increases are reported to the credit agencies and may have a positive impact on your credit rating.
How Does the Aqua Rewards Compare to Other Credit Cards?
To better understand the value of the Aqua Rewards card you need to look at it in the context of other available options. We've compared this card to some other rewards cards so you can see which better suits your needs.
Aqua Rewards vs Asda Cashback Credit Card
The Asda Cashback Credit Card is one of the best grocery and fuel cards for in-store rewards, as long as you shop at Asda. The card gives 1% cashback at Asda (but only 0.2% elsewhere). If you don't mind receiving your rewards as Asda vouchers, you can receive your rewards much sooner with the Asda card, which credits your rewards monthly (vs. the Aqua card, which pays out annually).
Quick Takeaway: Loyal Asda shoppers will earn higher rewards on Asda grocery and fuel shopping using the Asda Cashback card. Rewards on other general spending are higher on the Aqua Reward card. Those with weaker credit histories may be more likely to be accepted on the Aqua card.
Aqua Rewards vs Tesco Foundation Credit Card
The Tesco Foundation Credit Card provides an opportunity to earn rewards while working to rebuild or improve your credit rating. While rewards on this Tesco credit card are not spectacular at 0.25% when used in store, cardholders who enjoy actively managing their Clubcard points can boost their rewards up to 1% by taking advantage of the Clubcard Boost program at partners including PizzaExpress and Odeon. Another possible advantage of the Tesco Foundation card is the 0% interest period on new purchases for 6 months.
Quick Takeaway: The Tesco card doesn't pack the same punch on in-store shopping as some other rewards cards. However, you may still prefer the Tesco card if you are a loyal Tesco shopper or you need a 0% Purchases card.
Aqua Rewards vs Marbles Credit Card
The Marbles Credit Card is also aimed at those with bad credit ratings. The ranges of interest rates on the Marbles card is slightly lower, but keep in mind that the rates on both cards will be high and you should try to pay off your full balance every month to avoid paying any interest charges. Both the Marbles card and the Aqua Rewards card are issued by NewDay Ltd. Marbles doesn't offer any rewards, just credit-building opportunity to responsible cardholders. If you want to earn some rewards while improving your credit rating, you may prefer the Aqua Rewards card.
Quick Takeaway: Both of these cards can help you improve your credit rating, if you keep up with your payments. Due to the cashback rewards, the Aqua card has the potential to create more value than the Marbles card.
Comments