Aqua specializes in credit cards for people with bad credit. We've analyzed Aqua's two cards and discuss the pros and cons of each, including fees and interest rates, to help you figure out which card may be best for you. Choosing the right card will depend on your individual situation.
The guidance on this site is based on our own analysis and is meant to help you identify options and narrow down your choices. We do not advise or tell you which product to buy; undertake your own due diligence before entering into any agreement. Read our full disclosure here.
Aqua Credit Cards Review
In analyzing Aqua's credit cards, we considered features such as interest rates, rewards, foreign transaction fees and credit limits. The best card for you will depend on your own needs and circumstances. Note: recently Aqua has introduced a pre-eligibility check, so you can see your odds of being accepted before you apply—without hurting your credit record.
Best Aqua Card for Travel: Aqua Advance
The Aqua Advance can be a great option for credit builders who take holidays abroad, because you can use the card to pay for hotels, restaurants, bars and in shops in the local currency when you're abroad—without incurring any FX fees. The vast majority of credit cards charge a fee around 3% of any transaction in another currency.
We don't recommend using the card for cash withdrawals, however, as you'll incur a 3% (£3 minimum) cash fee and interest starts accruing immediately—at a higher interest rate of 44.9% variable APR .
The best way to use this card is by staying under your credit limit and paying on time to help improve your credit rating over time. Not only that, but by doing these things your interest rate should drop by 5% a year for three years, potentially reaching 19.9%. Since the Aqua Advance interest rate on purchases is higher than average (34.9% variable APR ), pay more than the minimum each month (as much as possible, really), to limit interest charges and avoid debt from building up.
Pros
No foreign transaction fees
Interest rate reduces by 5% a year for good account management
No annual fee
Eligibility Checker
Free text alerts
Cons
Higher-than-average interest rates from 34.9% variable APR
Cash APR 44.9% variable
Best Basic Aqua Card for Bad Credit or Low Income: Aqua Classic
The Classic Credit Card is apparently Aqua's most popular card and will consider those with poor credit, including the self-employed, individuals who've had trouble with late payments in the past and those with a low income. Initial credit limits run between £250 and £1,200. Responsible management of your account (i.e., making payments on time and staying within the credit limit) can lead to credit limit increases, which can in turn improve your credit rating—especially once the credit limit reaches £1,000.
Pros
Credit limit may increase with "good behavior"
No annual fee
Eligibility Checker
Free text alerts
Cons
Higher-than-average interest rates from 37.9% variable APR
Cash APR 47.95% variable
2.95% foreign transaction fees
FAQs
The starting Aqua credit card limit is between £250 and £1,200, depending on your credit history. The credit limit on the Aqua Classic may increase every 4 months if you manage your account well by paying on time and staying under the credit limit.
The foreign transaction fee is 2.95% on non-sterling transactions on the
Aqua Classic
; there's no foreign transaction fee on the
Advance
Yes, you can use your Aqua card abroad. You'll pay foreign transaction fees on the
Aqua Classic
but not on the
Advance
. Interest on cash withdrawals is high so using your card at the ATM is possible, but expensive.
The cash withdrawal rate is 47.95% variable APR on cash withdrawals on the link url="/aqua-classic-credit-card-review" title="Aqua Classic review"]Aqua Classic and 44.9% variable APR on the
Advance
.
Voluntarily Decreasing an Aqua Credit Card Limit
Sometimes, cardholders prefer to decrease their credit limit—perhaps to avoid accumulating an unmanageable amount of personal debt. In this case, you may request a lower credit limit by calling 0333 220 2691. You may be charged for this call, as it is an 03 number that is charged at a standard national rate. Please check what it will cost from your mobile or land-line provider before calling. Aqua lines are open from 8am-9pm Monday to Friday, 9am-5pm Saturday and 10am-6pm Sunday.
Aqua Credit Card Payments
You can make payments to Aqua via:
GIRO
Standing Order
Telephone Banking Service
You can find more information on a particular Aqua payment method here.
Aqua Credit Card Payment—How Much Should You Pay?
While you are probably aware that making at least the minimum monthly payment is important for a good credit rating and to avoid fees and charges, it's also important to understand why you may want to pay more than the minimum amount due each month.
Basically, by paying only the minimum amount you will extend the time to become debt free and also pay more in interest charges. By paying a larger amount each month, you can become debt free sooner and also reduce to total interest paid over the life of the debt. Paying as much of your outstanding balance as you can afford each month is generally a good strategy.
Top Tip: Pay as much as you can each month.
The chart below shows how making larger monthly payments equates to lower total interest charges over the life of a debt. Notice how only paying the minimum amount due each month results in interest charges about 6X times larger than maintaining a constant £50 payment.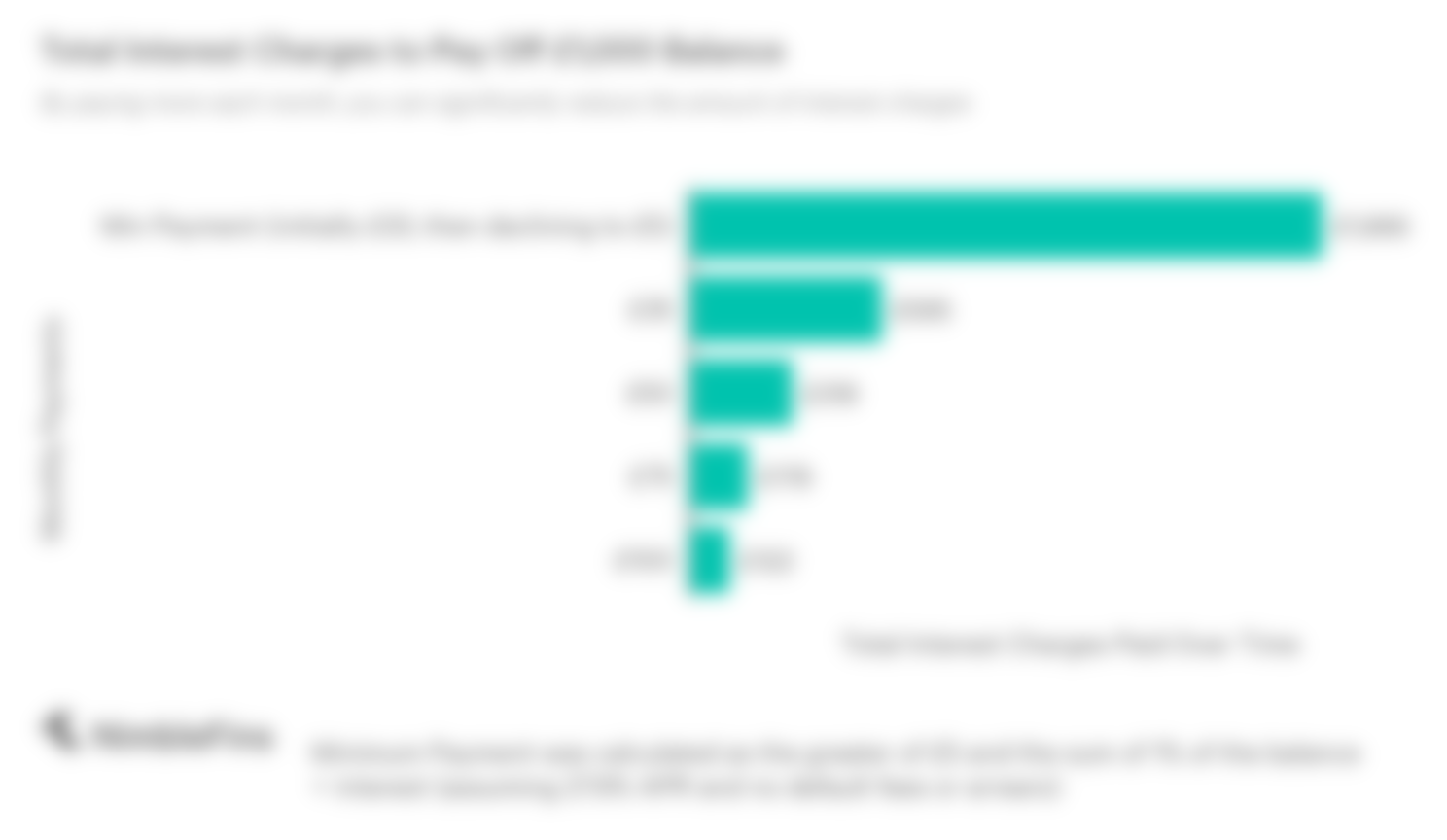 Be aware that, as a credit-builder company, Aqua's interest rates are higher than average, as you can see in the following chart. Try to pay down your full balance each month to avoid interest charges.
Summary of Best Aqua Cards
Best For...
Card
Purchase APR (variable)
Quick Overview
Travel
Aqua Advance
34.9%

Interest rate may reduce by 5% a year
No non-sterling transaction fees

Bad Credit
Aqua Classic
35.9%

Credit limit may increase for "good behavior"
Comparing Aqua Credit Cards to Other Similar Cards
If you want to know if any of the cards mentioned above are right for you, it can help to know what other similar cards are available. Below, we highlight a few cards that offer similar functionality, in order to help you make an informed decision.
For Rebuilding Credit: Chrome Credit Card
The Chrome credit card, also by Vanquis, is also designed for those with bad credit who want to rebuild their credit rating. Initial credit limits are between £250 and £1,000, with a representative APR of 29.5%.
Quick Takeaway: The Chrome and Aqua Classic have very similar interest rates. Use the eligibility checker to see if you're eligible.
For Poor Credit: Aquis Credit Card
The Aquis credit card is another Vanquis credit builder card. Initial credit limits are between £250 and £1,000, with a representative APR of 29.8%.
Quick Takeaway: The Aquis and the Aqua Classic offer similar interest rates and features. Use the eligibility checker to find out if you could be accepted.
For using Abroad: Santander Zero Credit Card
The Santander Zero is a decent travel card in that it doesn't charge a fee for non-sterling cash withdrawals and transactions made abroad. Furthermore, cardholders who plan to use the card in the UK can benefit from 5% to 25% savings at selected partners through Santander's Retailer Offer program.
Quick Takeaway: The Santander Zero card is a better credit card for anyone needing cash withdrawals from an ATM while abroad, as it charges no cash fees and charges a lower interest rate on those cash withdrawals. The Aqua Advance may be a better choice for overseas use, however, if you are working to improve a weak credit history.
Comments