Santander Zero Review: No Fees.
Santander Zero Review: No Fees.
A no-fee card you can use overseas without paying FX charges, but avoid using it to get cash.
Good for
Using abroad
Not paying an annual fee
Paying no fees on foreign transactions or cash withdrawals
Bad for
Those wanting a low interest rate for cash withdrawals
The guidance on this site is based on our own analysis and is meant to help you identify options and narrow down your choices. We do not advise or tell you which product to buy; undertake your own due diligence before entering into any agreement. Read our full disclosure here.
Santander discontinued its Zero Credit Card in August 2021. This review is kept up for historical purposes, but the card is no longer available. Consider the Santander Everyday Credit Card as a potential alternative.
The Santander Zero Credit Card is a good credit card to use abroad, since it charges no fees for cash withdrawals and transactions made abroad in local currencies. Are there any drawbacks to using this card overseas? Read our review to learn the top tips for avoiding excessive charges.
Santander Zero Credit Card Review
The Santander Zero is designed for people who travel overseas frequently, because it doesn't charge fees on non-sterling transactions or cash withdrawals made abroad. But should you use the card to withdraw cash from ATMs? Not necessarily.
Should you withdraw cash at ATMs when overseas?
Interest on ATM transactions start accumulating immediately with the Zero card (like on most credit cards), which makes credit cards in general expensive for cash withdrawals. On the plus side, the Zero card doesn't have a ramped up interest rate for cash withdrawals like you'll find on many other cards in the UK market. So while interest on cash withdrawals starts accumulating immediately (like on most cards), at least the interest rate is the same as the purchase rate (this is a better situation than most UK credit cards).
Top tip: If you need to make a cash withdrawal when you're overseas, get online and pay off the withdrawal amount ASAP.
How much will you pay in interest on cash withdrawals using the Zero? It depends on how much cash you take out and when you pay the outstanding balance. We've run some sample numbers to show much you'll pay in interest on cash withdrawals using the Zero card. For example, taking out the equivalent of £1,000 on holiday and paying this back 60 days later, you'd incur £29.40 of interest charges (at 18.9%).
| Zero: Interest Charges on ATM Cash Withdrawals | 30 days outstanding | 60 days outstanding |
| --- | --- | --- |
| £300 | £4.4 | £8.8 |
| £500 | £7.3 | £14.7 |
| £1,000 | £14.6 | £29.4 |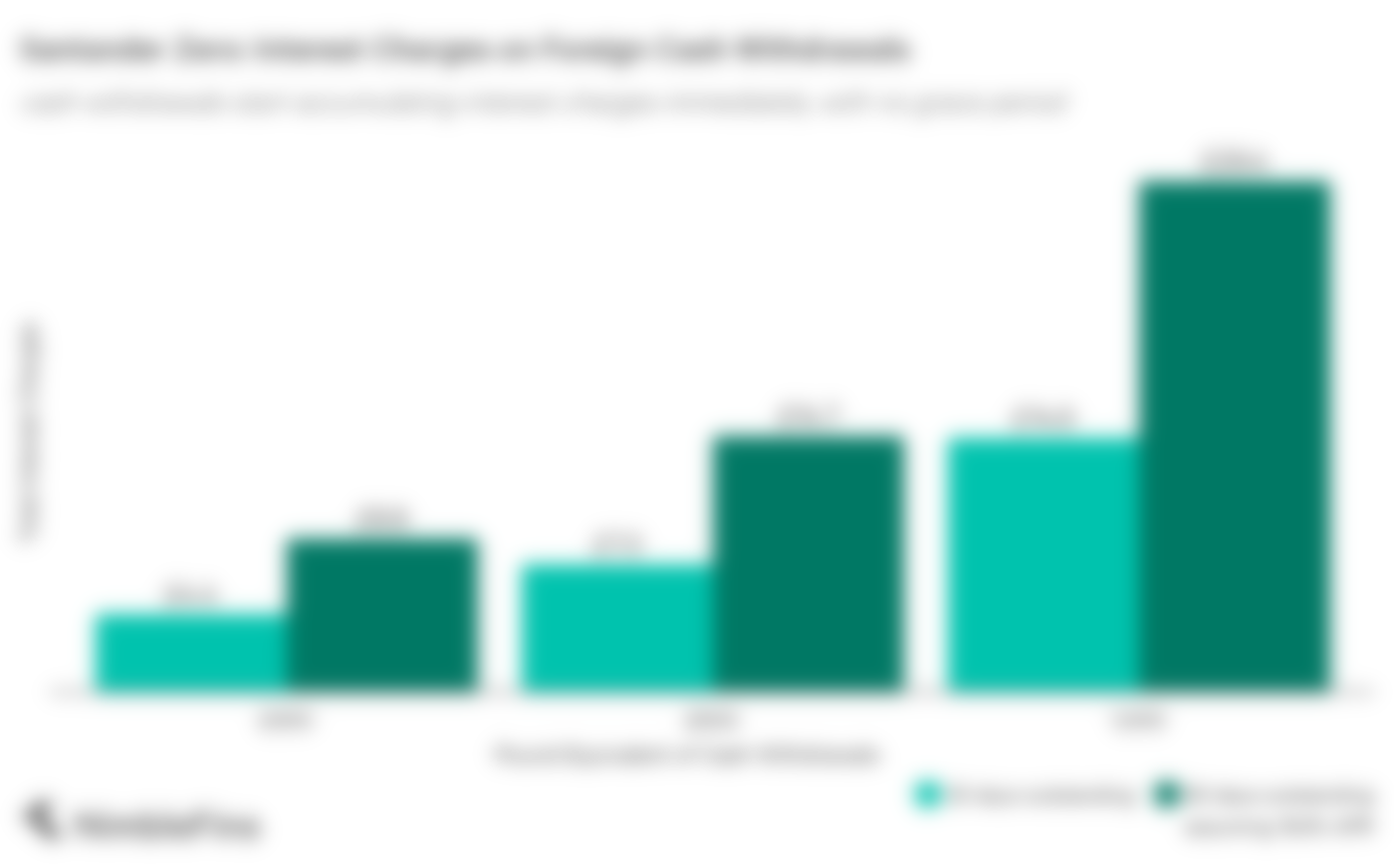 As with all travel cards, be sure to pay for purchases abroad in the local currency, not in pounds. By paying in the local currency, you will get a good exchange rate from Mastercard. If you elect to pay in pounds instead you'll be subject to an exchange rate chosen by the retailer, which is likely to be worse for you.
If you intend to use this card in the UK as well as abroad, some users may find value through Santander's Retailer Offers. The rewards program can earn bonuses of up to 15% off select retailers, including various supermarkets, food, and entertainment - but users will have to actively manage their account to use Retailer Offers. These Retailer Offers are usually short-lived and may therefore be difficult to take advantage of. The Santander Zero card offers no rewards other than these Retailer Offers.
Bottom Line: The Santander Zero Credit Card is a credit card that can be used for travel, but try to pay off any cash withdrawals as soon as possible to limit interest charges before they rack up.
Santander Zero Benefits & Features
Santander Zero Credit Card Features
Transaction Fees

No fee on non-Sterling transactions abroad
No fee on cash withdrawals

Retailer Offers for Online and Mobile Banking customers

Welcome bonus of 5 Retailer Offers up to 25% off
Ongoing access to Retailer Offers up to 15% off

Annual Fee
£0
APR (variable)
18.9% on purchases, cash transactions and balance transfers
Retailer Offers
Zero cardholders can access Santander's Retailer Offers, which provide up to 15% off at various and changing retail partners, such as supermarkets, entertainment, food, services, and more. While Santander doesn't advertise the retailers, we have heard reports of recent offers from car rental agencies and JD Sports, for instance.
As a welcome bonus, Santander will give you five Retailer Offers up to 25% off. These offers are usually short lived, expiring within fourteen days. In order to receive any Retailer Offers you must be registered for Online or Mobile Banking. To receive the Welcome Retailer Offers specifically, you must switch on Online or Mobile Banking within 30 days of card activation.
Balance Transfers
While the Santander Zero has balance transfer capability, the 3% fee for only one month of no interest is worse than the average balance transfer deal on the market.
Santander Zero Compared to Other Credit Cards
To better understand the value of the Santander Zero Credit Card you need to see it relative to other available options. We've compared this card to other cash back and rewards cards so you can decide which will create more value for you.
Santander Zero vs Santander All In One Credit Card
The Santander All In One Credit Card is a decent all-around card, offering a 0.5% cashback rate and no fees on purchases made abroad. The biggest disadvantages to the All In One card are the £3 monthly fee and 3% (£3 minimum) charge on cash withdrawals.
Quick Takeaway: Both cards may be interesting to those who want to actively manage the Retailer Offers rewards program to eek out extra rewards. Those charging £600 a month will just earn enough cashback rewards on the All In One to offset the monthly fee. Anyone looking for a simple card to use while abroad may find more value on the Zero, since it is free and doesn't charge for cash withdrawals.
Santander Zero vs Aqua Advance Credit Card
The Aqua Advance Credit Card charges no FX fees on non-sterling cash withdrawals or transactions made abroad, but beware of taking out cash from an ATM because there's still a 3% fee at home and abroad (£3 minimum)—plus cash advances incur interest right away, at a high interest rate. This card will accept those with weaker credit histories, however, so those with poor credit may find it suitable for purchases on holiday.
Quick Takeaway: The Aqua Advance has higher interest rates so is technically not as good as the Barclaycard Rewards card—but it may accept you if the Rewards card won't.
Comments