The guidance on this site is based on our own analysis and is meant to help you identify options and narrow down your choices. We do not advise or tell you which product to buy; undertake your own due diligence before entering into any agreement. Read our full disclosure here.
Average Cost of Payday Loans
Payday loans are just about the most expensive way to borrow money. Find out how much a payday loan will typically cost you to help you decide if it's worth it.
Average Payday Loan APR
According to the FCA, the average APR charged for payday loans is around 1,250%. This means that firms are essentially charging the maximum payday interest rate allowed by law of 0.8% per day.
There are variations in the APR depending on specifics of any loan. For example, loans which are repaid in instalments over a period of time typically have lower APRs than single instalment payday loans (where you don't pay anything until the end).
Payday Loan Example
The cost of a payday loan will typically depend on the amount you borrow, the interest rate and the amount of time you borrow the money. Below, we've calculated the amount it might cost you to borrow £100, £250 and £500 for the maximum interest rate that can be charged (0.8% per day) and various amounts of time (30 days, 60 days and 90 days). Note: most payday loans charge the maximum interest rate of 0.8% per day.
| Amount you'll repay on payday loans charging 0.8% interest/day | 30 days | 60 days | 90 days |
| --- | --- | --- | --- |
| £100 loan | £124 | £148 | £172 |
| £250 loan | £310 | £370 | £430 |
| £500 loan | £620 | £740 | £860 |
This example assumes you never miss a payment and don't incur any late payment fees—doing so would increase the cost of borrowing via a payday loan even more.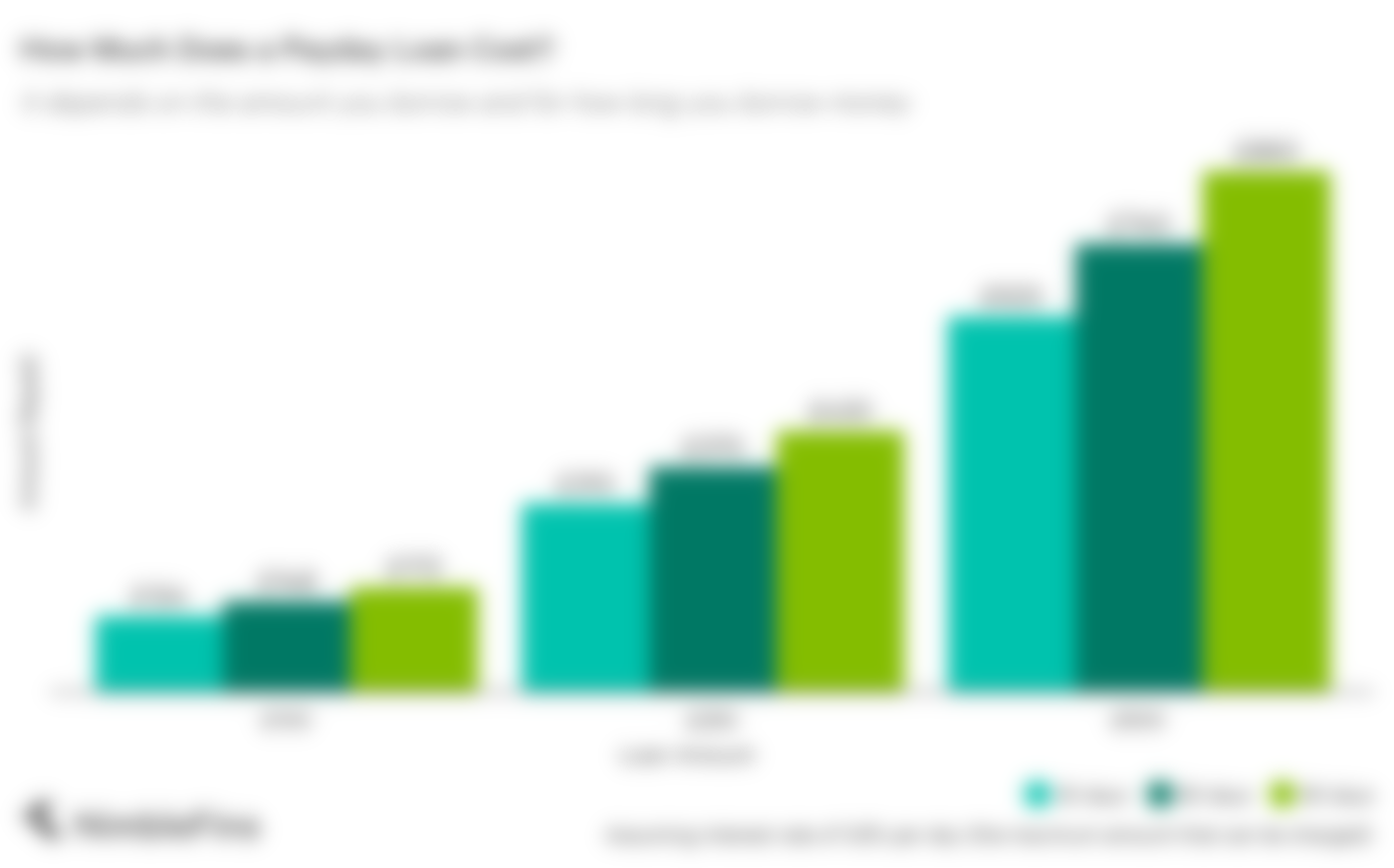 Payday Loan Price Capping
In 2015 a price cap was introduced that limits the amount repaid by the borrower (including all charges) to twice the amount borrowed. Following the introduction of rules to cap HCSTC loan charges, all firms must ensure that:
Interest and fees can't exceed 0.8% per day of the amount borrowed
Default fees can be no more than £15
Borrowers won't pay more in fees and interest than 100% of what they borrowed
How Much do Borrowers Typically Pay for a Payday Loan?
The Financial Conduct Authority (FCA) has found that borrowers typically repay 1.65 times the amount they borrow. The average amount of money borrowed in 2018 was £250; the average amount payable was £413 (1.65 times the average amount borrowed).
| Amount Borrowed | Typical Amount Repaid |
| --- | --- |
| £100 | £165 |
| £200 | £330 |
| £300 | £495 |
| £400 | £660 |
| £500 | £825 |
Other Costs of Payday Loans
If you miss a payment on a payday loan, you can be charged up to £15. These fees can significantly add to the overall cost of a payday loan, especially if you miss more than one payment.
One long-term, unexpected cost of payday loans is the effect one can have on your credit report. When you apply for credit, lenders look at your credit report to gain an understanding of how risky it would be to lend money to you. They use your credit history to help them decide if they should lend money to you, and at what price.
Each time you apply for credit, a mark is made on this credit report. Unfortunately, payday loan applications are noted under a separate section so lenders can see how often you've applied for a payday loan, and for how much. The more you've borrowed via payday loans, the riskier your profile will be to potential lenders. If they decide to lend to you, they may charge a higher interest rate to reflect the perceived risk. As a result, using payday loans can cost you in the long term by making future household borrowing more expensive. For example, using payday loans could impact your ability to get a mortgage in the future.
FAQs
There are companies that provide payday loans for people with bad credit.
Payday loans are capped
in terms of how much they can charge, but you'll probably be offered quite a small loan if you have bad credit.
According to
Experian
, a payday loan might not be harmful to your credit score if you pay the loan back in full and on time—but there may be exceptions because each company has different criteria and most credit applications leave a mark on your
credit score
. Plus, be aware that mortgage providers can be quite strict when assessing how well you can afford a mortgage, and a payday loan could be a sign that you aren't good at budgeting or are having financial difficulties.
Payday loans are short-term, high-interest loans for smaller amounts of money. The average payday loan is £245, charged at 1,250% APR.
Comments