Starwood Preferred Guest (SPG) Credit Card from Amex: The Best Hotel Rewards Card?
Starwood Preferred Guest (SPG) Credit Card from Amex: The Best Hotel Rewards Card?
One of the highest-rewarding hotel rewards credit cards, best for those spending over £25k per year.
Good for
Earning a welcome bonus
Earning a free weekend night stay each year
Double points on SPG & Marriott spend
Bad for
Those wanting a free card with no annual fee
Those wishing to use their free night in a category 5 or higher hotel
Those who will spend less than £25k per year on the card
The guidance on this site is based on our own analysis and is meant to help you identify options and narrow down your choices. We do not advise or tell you which product to buy; undertake your own due diligence before entering into any agreement. Read our full disclosure here.
News update: Following the merger of the Marriott and Starwood points systems, Amex has replaced the Starwood Preferred Guest Credit Card with a new card called the Marriott Bonvoy American Express Card. We have left this review of the SPG credit card up here for historical purposes.
The Starwood Preferred Guest Credit Card is a solid rewards credit card for frequent travelers. Strong rewards rates around 2% on everyday spend, a welcome bonus, and an annual bonus give this card the potential to create a lot of short-term and long-term value. The recent merger between SPG and Marriot means that earning loyalty points can give you the chance to stay for free at a selection of over 7,000 properties around the world.
Starwood Preferred Guest Card Review
Note: The following review was written to reflect a welcome bonus of 30,000 points. The welcome bonus changes periodically and the returns may differ for year one as this welcome bonus changes.
The Starwood Preferred Guest Credit Card from Amex is quite rewarding but... confusing for consumers. A few years ago cardholders earned Starwood points, as in the name, but since Starwood's merger with Marriott the card is now part of the Marriott Bonvoy programme. Cardholders earn Marriott Bonvoy points, even though the card is still called the SPG card. In the US, they've rebranded the cards under Marriott Bonvoy but here in the UK that hasn't been done yet.
We think the SPG Amex offers one of the highest rewarding and most flexible hotel rewards programmes in the UK. Due to its annual fee of £75 and minimum spend to get a Free Night, it's most suitable for those spending over £25,000 per year. Cardholders can earn rewards rates of 2.1% on everyday spend and 4.2% on participating Marriott spend.
As you can see in the chart below, these rewards are potentially more valuable than you'll get on competing Amex cards like the Preferred Rewards Gold or Platinum Cashback card—however these are only estimates and can take a bit of work and planning to achieve. (Note: the chart below doesn't reflect the lounge visits you get on the Preferred Rewards Gold card.)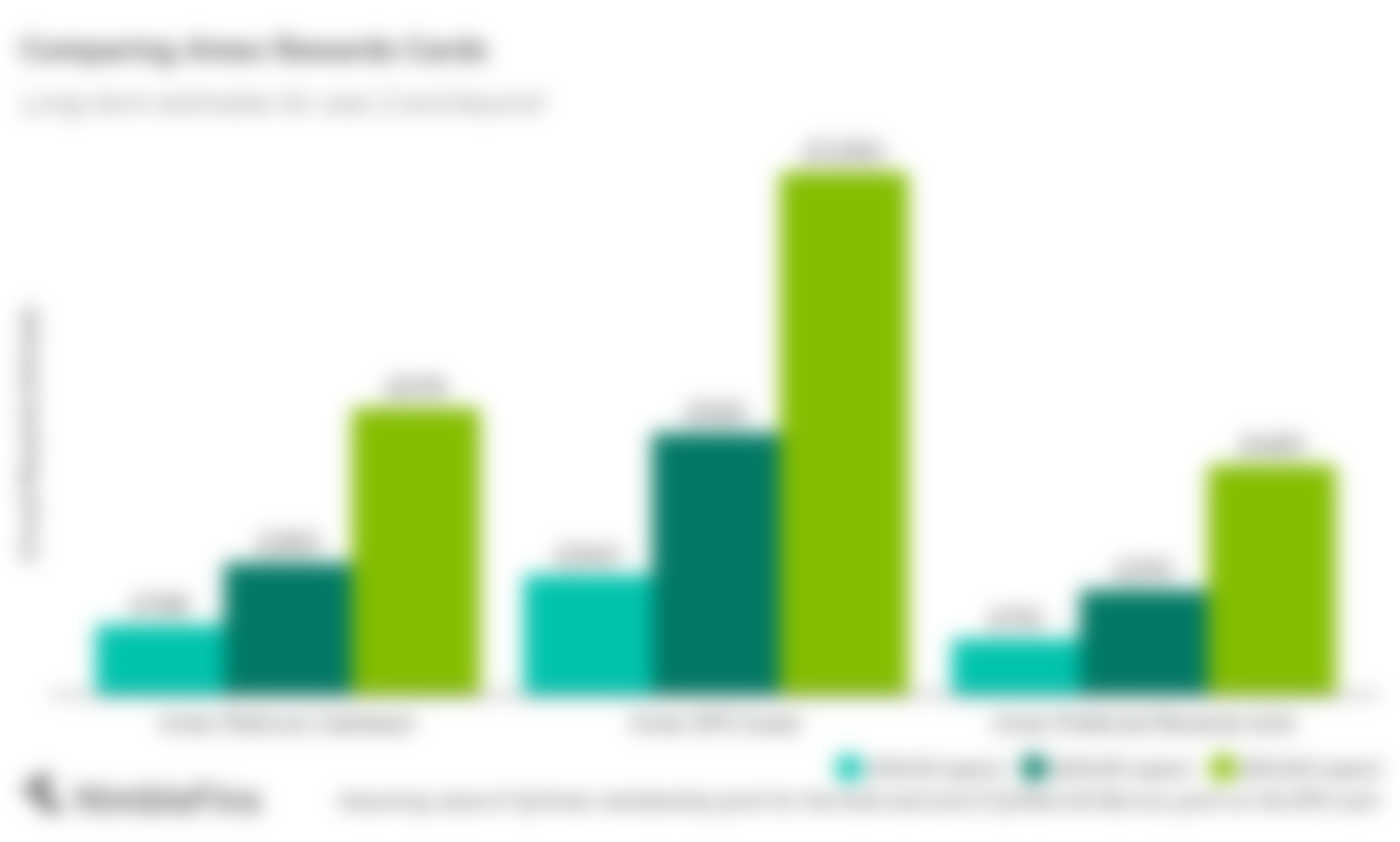 In addition, you can earn a 30000 point welcome bonus during the first year, so the rewards can really pile up. Be aware that the free weekend night can only be used at a category 1 through 4 hotel, which does limit its potential value. Nonetheless, the SPG card can create more value than many other rewards cards.
How Much is a Marriot Bonvoy Point Worth?
We estimate Marriot Bonvoy points are worth around 0.7 pence but as with all rewards points, it depends on how you redeem them. You'll get more value when you redeem off peak, and less value when you book stays at peak times with points. And the value you get from a point varies depending on the category of the hotel.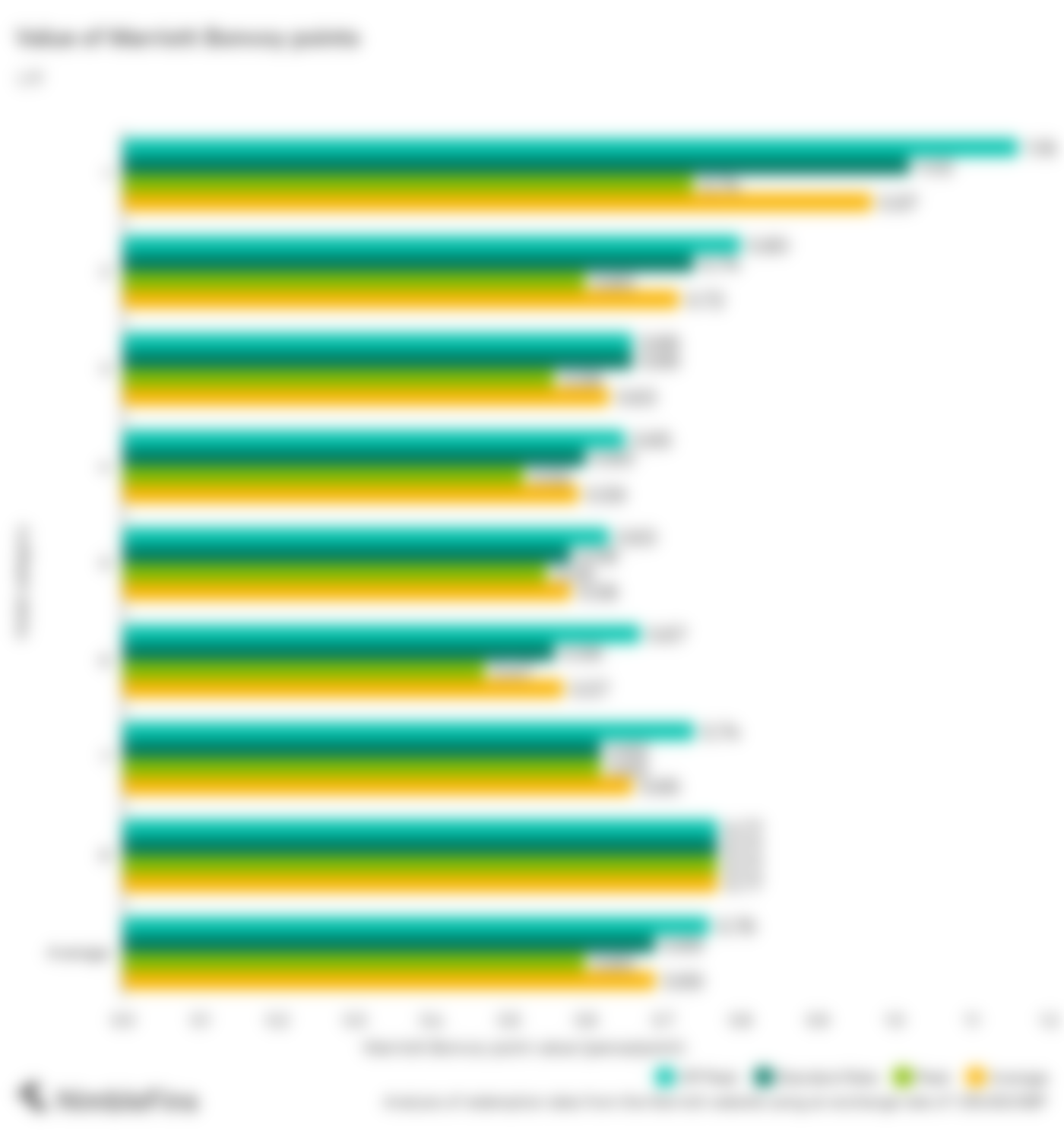 To give you a real-life example, we took a sample night at the W London in early June and compared paying with cash, points or a combination of cash and points to see how the points are valued. As you can see, the range was 0.4 pence to 0.9 pence per point.
| W London hotel room | Cost | Implied Value of Marriott Bonvoy Point |
| --- | --- | --- |
| Cash | £532 | n/a |
| Points | 70,000 points | 0.9 pence |
| Cash + Points | £232 + 40,000 points | 0.8 pence |
| Upgrade | 8,000 points or £30 | 0.4 pence |
Rewards Rate
The rewards rate on the SPG Amex card is approximately 2.1% on everyday spending, where you earn 3 points for every £1 spent This is based on an estimated value for Marriott Bonvoy points of 0.7 pence apiece.
The rewards rate is twice at high (4.2%) for spend at participating Marriott hotels, where you'll earn 6 Marriott Bonvoy points per £1 spent. Of course, rewards depend on how you redeem your points; you may earn less, or more.
This card only makes sense if you will use it; it shouldn't just sit untouched in the recesses of your wallet. You will need to spend around £3,500 a year just to make up for the £75 annual fee. (Or half of that spend on Marriott properties.) If you would rather use your rewards on air, points can also be redeemed for flights on over 150 airlines (no blackout dates) and are usually transferred at a ratio of 1:1.
If you used to have Starpoints, you'll notice that you now have more Marriott Rewards Points; this is because they were valued in the merger at a rate of 1 Starpoint : 3 Marriot points.
Bottom Line: The Starwood Preferred Guest card can be highly rewarding for big spenders. Be aware that the free night is limited to redemption at categories one through four.
Starwood Preferred Guest Card Features
For every £1 you spend on the Starwood Preferred Guest card at participating hotels within the Marriott portfolio, you'll earn 6 points. Every £1 spent elsewhere earns you 3 points. Given our estimated value of a point to be 0.7 pence, you could see ongoing rewards rates of 4.2% on participating Marriott spend and 2.1% elsewhere.
Starwood Preferred Guest Card Features
Earnings Rewards

Earn 6 points for every £1 spent at participating properties
Earn 3 points for every £1 spent elsewhere

Automatic Upgrade
To Gold Elite status (spend £15,000 per year)
Annual Bonus
Receive a Free Weekend Night Award (spend £25,000 per year)
Welcome bonus
30000 points (spend £1,000 in first three months)
Eligibility checker
To see your odds of being accepted before you apply
Transaction Fees
2.99% fee on non-Sterling transactions abroad
Other Benefits

Can transfer your points to over 150 airlines with no blackout dates and 40 major airline rewards programmes
Global Assist
Travel Accident cover
Travel Inconvenience Insurance
Refund Protection
Purchase Protection
American Express Experiences

Annual Fee
£75
Representative APR (variable)
39.7%
Variable purchase rate
19.9%
Using points to Fly
If you'd rather use your points to fly, they can be exchanged for seats on over 150 airlines through SPG flights. You may receive a slightly lower value per point if you choose to redeem them for air travel than hotel stays. You can transfer points to miles at a 3 to 1 ratio with most programmes.
Hotels in the SPG and Marriott Rewards Portfolio
With the recent merger of SPG and Marriott Rewards, you can choose from around 7,000 properties scattered around the globe.
SPG and Marriott Rewards Brands, Around 7,000 properties
The Ritz Carlton
St. Regis
JW Marriott
The Luxury Collection
W Hotels
EDITION
Marriott Hotels
Sheraton
Marriott Vacation Club
Delta Hotels
Le Meridien
Westin
Autograph Collection
Design Hotels
Renaissance Hotels
Tribute Portfolio
Gaylord Hotels
Courtyard Hotels
Four Points
SpringHill Suites
Protea Hotels
Fairfield Inn & Suites
AC Hotels
Aloft Hotels
Moxy Hotels
Marriott Executive Apartments
Residence Inn
TownePlace Suites
element
Starwood Preferred Guest Card Compared to Other Credit Cards
To better understand the value of the Starwood Preferred Guest Credit Card you need to see it relative to other available options. We've compared this card to other cash back and rewards cards so you can decide which will create more value for you given your individual needs and spending habits.
Starwood Preferred Guest vs IHG Rewards Club Premium
The IHG Rewards Club Premium Credit Card can create quite solid 1% rewards on general spending and 2% rewards on IHG spend, with an added welcome bonus and the chance to earn a free night voucher every year. We particularly like this last feature, as the free night takes a lower level of spend (£10,000) to achieve than competing cards. Plus, this free night can be used at any property in the IHG Rewards Club - you are not restricted to lower category hotels.
Quick Takeaway: Cardholders will likely earn higher ongoing rewards on their spending with the SPG card; as you spend more, the SPG card looks more and more attractive. However, annual spend between £10,000 and £25,000 is best put on the IHG card. This is in part because £10,000 of spend triggers the IHG free night voucher. The IHG free night voucher can be used at any category of hotel, unlike the free SPG night voucher that excludes hotels in the top two tiers.
Starwood Preferred Guest vs Miles & More
The Miles & More awards cardholders with 1.25 award miles per £1 spent. There's also a welcome bonus of 5,000 miles (which is periodically bumped up to 10,000 points). These points can be converted Marriott Bonvoy points at a transfer rate of 1 airline mile:3 Marriott Bonvoy points.
Quick Takeaway: The Miles & More card earns slightly higher rewards rates on general spending, and is another way to earn points that can be used at Marriot Bonvoy—but there's no annual bonus..
Starwood Preferred Guest vs Platinum Cashback by American Express
The Platinum Cashback Credit Card by American Express is one of our favourite cashback rewards cards for those seeking an easy and flexible rewards program. Cardholders earn an ongoing rewards rate between 1% and 1.25% on all purchases (with a higher initial cashback rate of 5%). The £25 annual fee is relatively low and annual rewards are not capped. You must spend at least £3,000 on your card a year in order to receive any cashback. Rewards appear at statement credits once a year.
Quick Takeaway: The ongoing rewards rate on the SPG card can be quite a bit higher, especially if you take into account the free night award—but they take active management to use. Those looking for an easy and rewarding credit card might prefer the simplicity of the Amex Platinum cashback card.
Comments